Logistic Management
Logistics: The Crucial Enabler of Supply Chain Operations
01 March 2023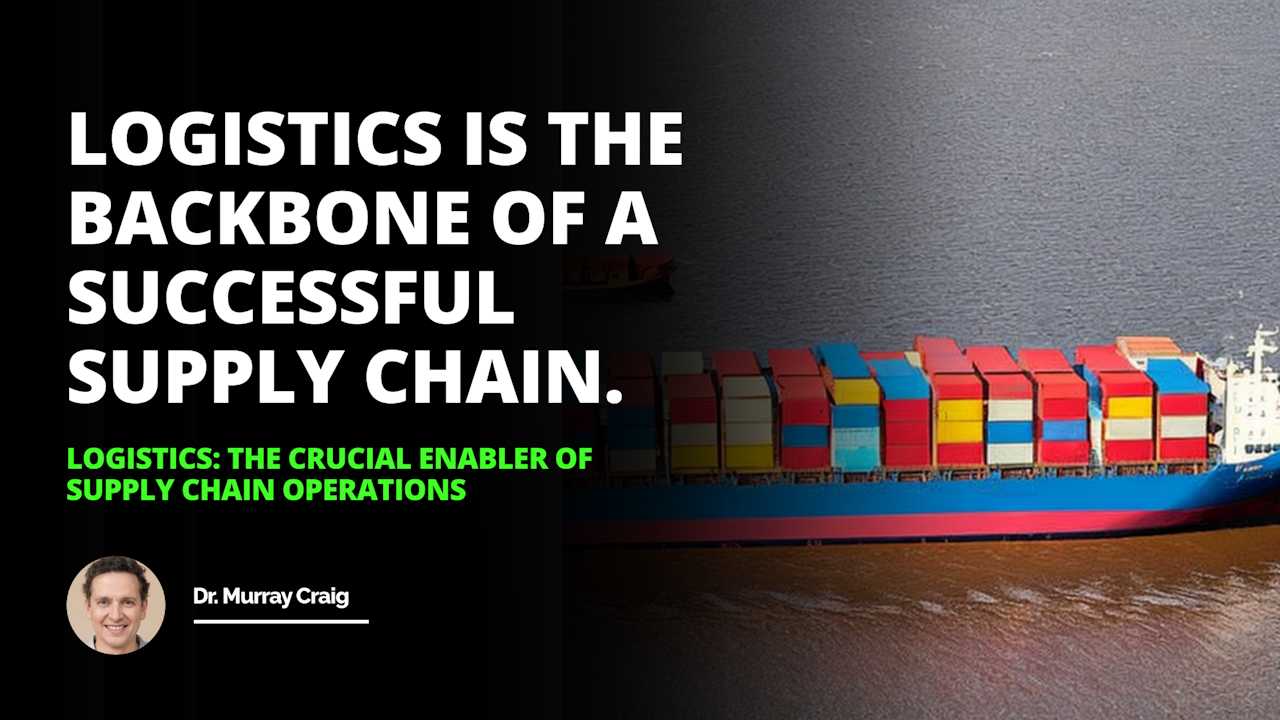 | Historical Period | Logistics Activity | Impact on Supply Chain Operations |
| --- | --- | --- |
| Ancient Times | Logistics involved the coordination of armies and people for defense or attack. | Established the concept of coordinated operations and resource allocation. |
| 17th Century | Shipping operations developed to transport goods between mainland Europe and its colonies. | This marked the beginning of formal logistics by allowing the logistics of bulk goods from one place to another. |
| Industrial Revolution | Transportation of resources and materials to production and distribution sites. | Saw the birth of modern logistics. Enabled faster, more efficient movement of goods, fostering growth and paving the way for globalization. |
| 20th Century | Became an independent administrative activity. | Helped improve the efficiency of supply chain operations, reducing costs, and optimizing resources. |
| Present Day | Evolved into Supply Chain Management. | Has transformed to ensure smooth flow of goods and services from producer to consumer with minimal hiccups. Overall, has increased efficiency and cost-effectiveness. |
| Future | Potential advancements in technologies such as AI, IoT, Blockchain. | Can further transform supply chain management, increasing transparency, reducing costs, and improving overall efficiency. |
| Overall | Order fulfillment, transportation, warehousing, inventory management, packaging, and materials handling. | Ensures goods are transported efficiently for timely, cost-effective deliveries. |
| Overall | Monitoring, tracking, and control of materials and goods flow. | Prevents stock-outs and reduces waste within the supply chain. |
| Overall | Planning and scheduling | Aids in cost reduction by reducing transit times and associated costs. |
| Overall | Training and exchange of goods | Ensures right product delivered on time of appropriate quality. |
Historical Background of Logistics

Logistics Role in Supply Chain

Benefits of Logistics within Supply Chain Operations
Logistics is an integral part of supply chain management, playing a fundamental role in supporting resource operation, production, and distribution throughout the supply chain network. Logistics is coordinating and planning processes, resources, and materials to meet customers' demands efficiently and cost-effectively. Logistics is the essential enabler of supply chain operations for maintaining competitive advantage.
Historical Background of Logistics
The concept of logistics has been around for centuries. In ancient times, logistics involved the coordination of armies and people in defending or attacking cities. In the 17th century, the first formal definition of logistics emerged when shipping operations were developed to transport goods between mainland Europe and its colonies. The birth of modern logistics occurred during the industrial revolution when it became increasingly crucial to transport materials and resources to places of production and distribution. During the 20th century, logistics became an independent administrative activity and has evolved to the present day with the emergence of supply chain management.
Logistics Role in the Supply Chain
Logistics forms the backbone of the supply chain, essential for coordinating and facilitating the movement of goods and services. Logistics is responsible for planning, scheduling, and arranging the training, exchange, and storage of goods as they move from the point of origin to the destination. In addition, logistics tasks include order fulfillment, transportation, warehousing, inventory management, packaging, and materials handling. Logistics is also responsible for monitoring, tracking, and controlling the flow of materials and goods through the supply chain.
Benefits of Logistics within Supply Chain Operations
Proper implementation of logistics can significantly impact cost reduction and increased efficiency for supply chain operations. Logistics is essential for appropriate cost control and productivity improvement by reducing transit time and costs associated with goods moving through the supply chain. In addition, logistics activities help to ensure that the right product is delivered on time and is of the appropriate quality at the destination. Proper logistics planning and implementation also help reduce waste throughout the supply chain and prevent stock-outs.
Conclusion: Logistics is a critical component of supply chain operations. It can bring significant benefits such as cost reduction and increased efficiency when appropriately managed. In addition, with proper planning, logistics activities can ensure goods are transported most efficiently to ensure timely and cost-effective deliveries. Ultimately, better logistics performance can lead to better supply chain performance, increasing customer satisfaction, profits, and improved operational excellence.
Logistics is the backbone of a successful supply chain.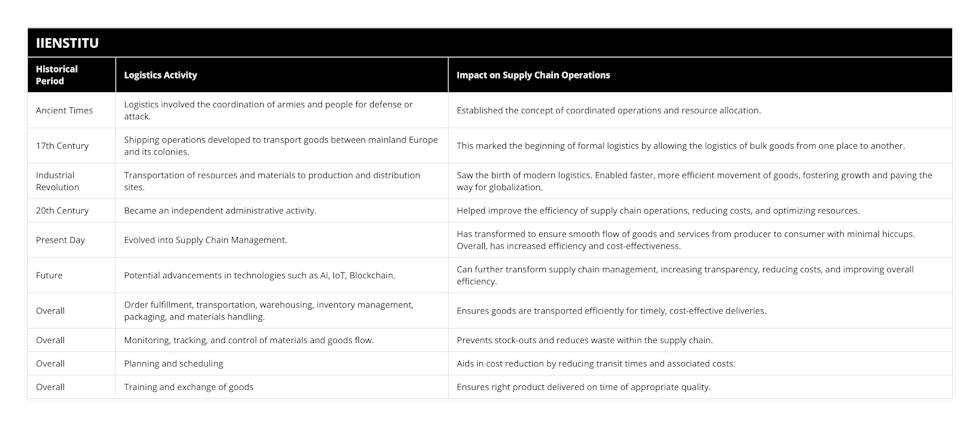 Logistics
supply chain management
coordination
planning
processes
resources
materials
demand
customers
efficient
cost-effective
ancient times
industrial revolution
order fulfillment
transportation
warehousing
inventory management
packaging
materials handling
monitoring
tracking
control
flow
cost reduction
efficiency
proper implementation
transit time
quality
destination
waste
stock-outs
customer satisfaction
profits
operational excellence

Dr. Murray Craig
Academic
Dr. Murray Craig is an academic and researcher who has dedicated his life to the study of human behavior. He has a particular interest in how people interact with their environment, and how that interaction can be used to improve their lives. Dr. Craig has spent many years teaching and conducting research at universities all over the world, and he is widely respected for his work in the field of behavioral science.
Related Posts
Our team of experts is passionate about providing accurate and helpful information, and we're always updating our blog with new articles and videos. So if you're looking for reliable advice and informative content, be sure to check out our blog today.