NLP
How To Use NLP Techniques To Increase Your Productivity?
05 June 2022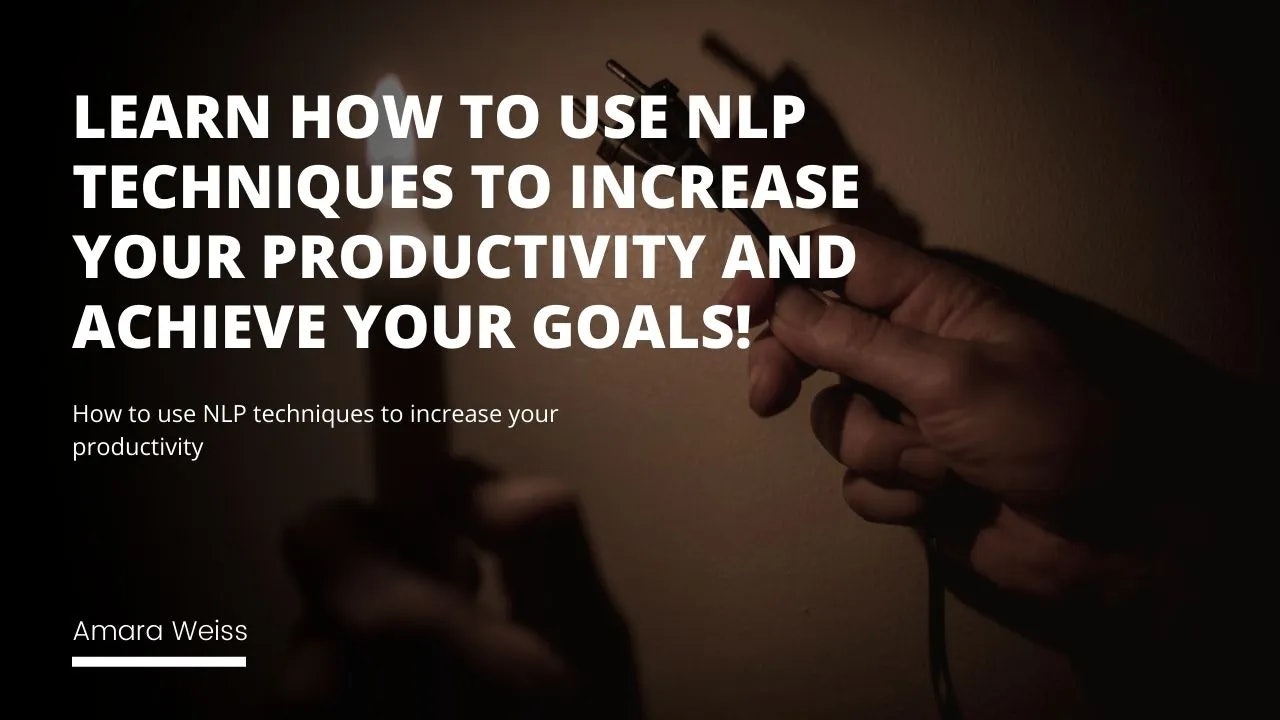 | NLP Technique | How to Apply | Impact on Productivity |
| --- | --- | --- |
| Mental Anchors | Set cues to return your focus to the present moment. For example, an alarm reminder or a physical object like a bracelet. | Helps to maintain focus and avoid distractions, increasing work efficiency. |
| Visualizations | Close your eyes, take few deep breaths, and imagine achieving your goal in a vivid and detailed manner. | Encourages subconscious mind to strive towards goal, thereby enhancing motivation and productivity. |
| Affirmations | Speak positive and achievable statements regularly such as 'I am a successful employee' or 'I finish my work on time'. | Helps reframe your mindset, setting you up for success and increased productivity. |
| Take a Break | Allocate short breaks during your work, possibly using a timer. Utilize this time to relax your mind. | Increases motivation and energy levels, helping you come back with a refreshed mind and better focus. |
| Set Realistic Goals | Ensure your goals are challenging yet doable, breaking them down into smaller, manageable steps if necessary. | Prevents overwhelming situations, promoting a steady progress towards goal accomplishment. |
| Improved Communication | Understand how your mind works to manage thoughts, emotions and to communicate more effectively. | Helps in building better relationships with co-workers, improving team dynamics leading to a productivity boost. |
| Overcoming Procrastination | Through visualization and affirmations, combat tendencies of procrastination by instilling a focused mindset. | Boosts efficiency by minimizing wasted time, leading to higher work capacity. |
| Emotional Intelligence | Use NLP techniques to understand and manage your emotions better, thus reducing stress and promoting mental health. | Improves ability to handle pressures at work, thus increasing productivity. |
| Boost Confidence | Use positive affirmations and visualizations to encourage self-belief and confidence. | Helps to step out of comfort zone and take up challenging tasks, leading to career growth and productivity. |
| Building Better Relationships | Use NLP techniques like understanding and mirroring body language to establish better relationships. | Improves teamwork and collaboration, essential for a healthy work environment and productivity. |
It is more important than ever to be productive in today's fast-paced world. Luckily, several techniques can help increase your productivity levels. One of these techniques is Neuro-Linguistic Programming NLP. NLP involves using specific language patterns and behavioral strategies to achieve your goals. This blog post will explore how to use NLP techniques to increase your productivity. Also, stay tuned for tips on using mental anchors, visualizations, and affirmations to increase your productivity levels!
What is NLP, and how can it be used to increase productivity?
NLP, or Neuro-Linguistic Programming, is a set of techniques that can be used to change the way we think and communicate. By understanding how our minds work, we can learn to control our thoughts and emotions and better manage our behavior. As a result, NLP can help increase productivity when applied to the workplace by allowing employees to focus on their goals, communicate more effectively, and overcome procrastination and other obstacles. In addition, NLP can also improve team dynamics and build better relationships between coworkers. Ultimately, by harnessing the power of our minds, NLP can help us achieve tremendous success in all areas of our lives.
If you're interested in learning more about using NLP techniques to increase your productivity, read on for some tips!
Tips for using NLP to increase productivity
One of the best ways to stay productive is to focus on your goals. Mental anchors can help you do just that. A mental anchor is any cue to bring your mind back to the present moment and refocus on your goals. For example, you might set a daily alarm to remind yourself to take a break every hour to stretch or take a walk. Or, you might wear a bracelet or ring that you can touch whenever you need to recenter yourself. By using mental anchors, you can train your mind to focus on what's important and avoid getting sidetracked by distractions. Over time, this can help you become more productive and efficient in completing your tasks. So next time you find yourself losing focus, take a moment to set a mental anchor and get back on track.
Visualize success
When it comes to achieving success, visualization is a powerful tool that can help you program your subconscious mind to work towards your goals. To visualize success, close your eyes and take a few deep breaths. Then, imagine yourself achieving your goal. Next, see yourself in the future after you've achieved success. What does it feel like? What do you see around you? What are people saying to you? The more vividly you can imagine yourself achieving your goal, the better. Visualization is a technique that can be used in all areas of your life, from your career to personal relationships. So next time you're setting a goal, take a few minutes to visualize yourself achieving it. You may be surprised at how much closer you get to making your dreams a reality.
Use affirmations to stay motivated
Achieving a goal can be difficult, especially if you're facing doubt or self-imposed limitations. This is where affirmations can come in handy. Affirmations are positive statements that help reframe your thinking and focus your attention on what's possible. For example, if you're trying to increase your productivity at work, repeating affirmations like "I am a competent and successful employee" or "I always get my work done on time" can help program your mind for success. It's essential to make sure that your affirmations are realistic and achievable so that you don't set yourself up for disappointment. If you're unsure where to start, try looking online for some affirmation examples that you can customize for your own needs. With a little bit of practice, you'll be surprised at how much power affirmations can have in helping you achieve your goals.
Know when to take a break
Taking a break might seem counterintuitive when you're feeling stressed and overwhelmed. However, it's one of the most effective ways to increase productivity. When you take a break, you give yourself a chance to relax and refocus. As a result, you can return to your work with fresh energy and a clear mind. If you find it challenging to take a break, try setting a timer for five or ten minutes. Once the timer goes off, step away from your work and do something you enjoy. Then, come back feeling refreshed and ready to tackle your goals.
Set realistic goals
One of the biggest mistakes people make when trying to increase their productivity is setting unrealistic goals. If your plans are too big or complicated, you're likely to get discouraged and give up. It's essential to set goals that are challenging but achievable. That way, you can stay motivated and on track to reaching your full potential. When setting goals, it's also helpful to break them down into smaller, more manageable steps. This will help you stay focused and avoid getting overwhelmed. For example, if your goal is to get in shape, you could break it down into smaller goals like going for a walk every day or signing up for a gym membership. By taking small steps, you'll be more likely to achieve your overall goal and feel proud of your accomplishments.
You're probably familiar with the saying, "You are what you eat." But did you know that another saying goes, "You are what you think?" What you believe has a powerful impact on your behavior and your achievements. So if you want to be more productive, it stands to reason that you should focus on changing your thoughts. And that's where NLP comes in. NLP, or Neuro-Linguistic Programming, is all about understanding how our thoughts influence our behavior. It's a set of techniques that can help you change your thinking patterns to achieve your goals. For example, let's say you want to start a new business. With NLP, you can learn how to overcome any self-doubt or negative thoughts that might be holding you back. You can also use NLP to improve your time management skills and learn how to prioritize your tasks. And that's just a taste of how you can use NLP to increase your productivity. If you want to learn more, we offer an online NLP course that will give you all the tools and techniques you need to start using NLP for yourself. With this knowledge, you can achieve anything you set your mind to. So what are you waiting for? Enroll today and start reaching your potential.
Related Course: Free Online Time Management Course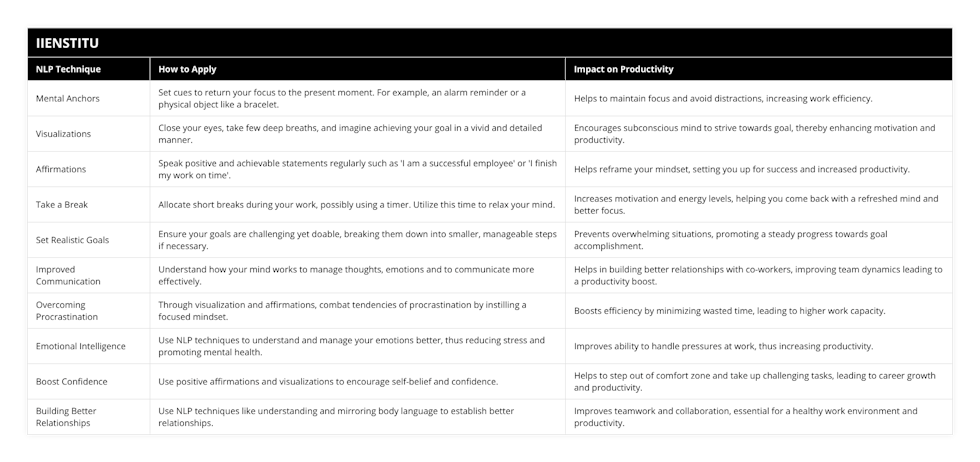 Amara Weiss
Institute Secretary, Author
I am Amara Weiss and for many years I have worked in the field of education, specifically in the area of technology. I firmly believe that technology is a powerful tool that can help educators achieve their goals and improve student outcomes. That is why I currently work with IIENSTITU, an organization that supports more than 2 million students worldwide. In my role, I strive to contribute to its global growth and help educators make the most of available technologies.
Related Posts
Our team of experts is passionate about providing accurate and helpful information, and we're always updating our blog with new articles and videos. So if you're looking for reliable advice and informative content, be sure to check out our blog today.