Logistic Management
Exploring the Role and Importance of Customs Brokerage
20 November 2023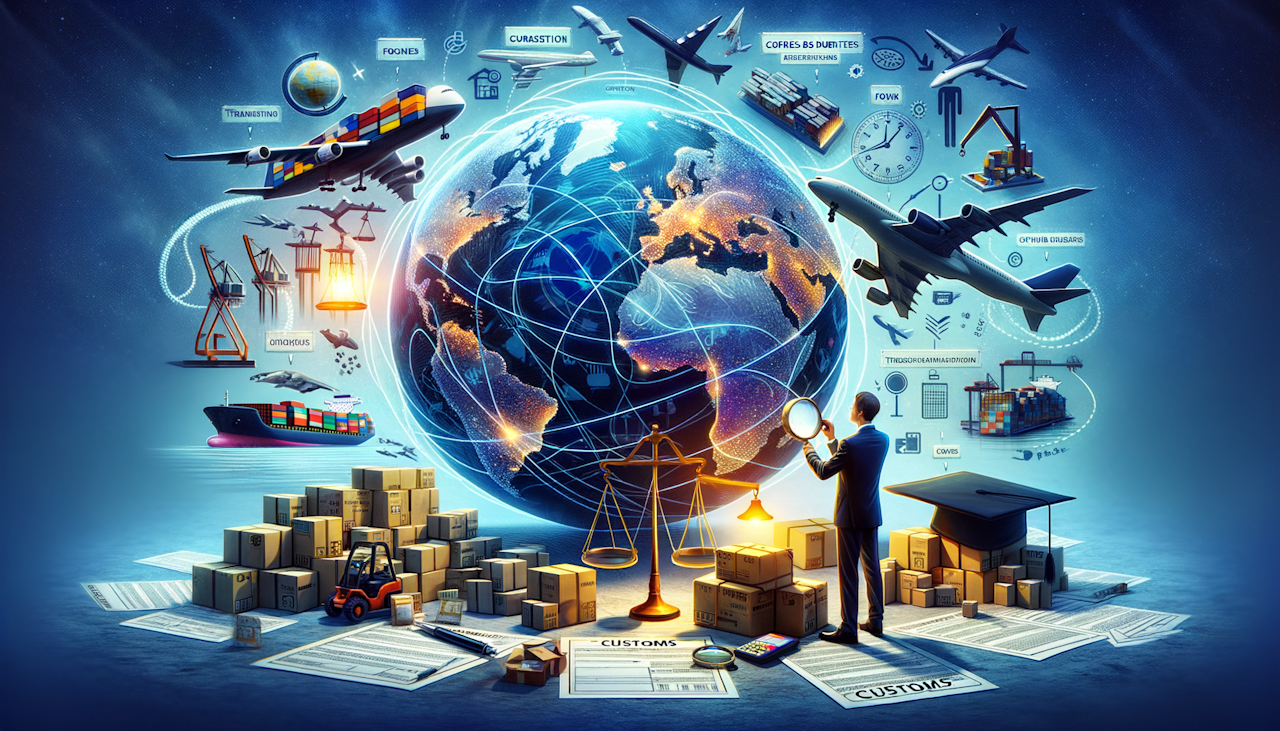 | Role/Function of Customs Broker | Importance/Benefit | Prerequisites for Becoming a Customs Broker |
| --- | --- | --- |
| Classification of Goods | Prevents financial penalties and delays from incorrect product classification | Specialized training through logistic management or online courses |
| Calculation of Duties | Ensures correct tax payments, legal compliance, and aids budget planning | Understanding of international fiscal policies and tariff codes |
| Preparation of Documents | Validates transaction details, promotes legal compliance | Attention to detail and communication skills |
| Regulatory Compliance | Ensures adherence to import/export laws to avoid legal issues | Comprehensive knowledge of specific country laws and customs regulations |
| Facilitation of Clearance | Speeds up goods clearance, prevents costly delays | Strong relationships with government agencies |
| Troubleshooting | Proactive issue resolution to save clients from financial and legal repercussions | Problem-solving abilities |
| Consulting | Provides insight on potential trade agreements or tariff exemptions, leading to savings | Deep understanding of international trade laws and regulations |
| Licence and Certification | Evidences professional competence and compliance | Passing customs broker licensing examination |
| Ethical practice | Maintains industry reputation, promotes trustworthy international trade | Meet ethical standards through background check and professional and personal history review |
| Continued Education | Ensures customs broker stays updated with evolving laws | Commitment to lifelong learning |
In the intricate landscape of international trade, a critical but often undervalued function is that of customs brokerage, a service essential for smooth global exchanges. Customs brokers act as professional agents for importers and exporters, displaying an adeptness that ensures compliance with a myriad of diverse regulations and tariff codes. The expertise provided by these professionals not only mitigates the potential risks associated with international trade, but also streamlines the process, ensuring efficient and lawful transfer of goods across borders.
Understanding the Role and Functions of a Customs Broker
Detailed explanation of a customs broker's responsibilities
Customs brokers carry a bevy of responsibilities that are crucial for the smooth operation of global trade mechanisms. The pivotal function they serve starts with the classification of goods, where they must correctly identify products according to a complex system of tariffs and regulations. Erroneous classification can lead to severe fines or elongated delays at customs, emphasizing the need for brokers' precision and expertise.
Additionally, the calculation of duties is another precise task that requires understanding intricate fiscal policies to determine the correct taxes that must be paid, thus avoiding potential legal issues and facilitating budget planning for importers and exporters.
Beyond these financial obligations, the preparation of a multitude of documents and ensuring strict compliance with regulations for each specific country import/export laws remains a cornerstone of their daily duties. This may include securing invoicing, certificates of origin, and other pertinent papers that verify the details of the transaction in question.
The importance of a customs broker in streamlining the import/export process
In navigating the complexities of customs regulations, expert guidance on regulatory requirements is indispensable. A customs broker's knowledge can expediently guide businesses through the maze of international trade rules, which vary from country to country. They also play an instrumental role in the facilitating quick and efficient clearance of goods, thus reducing the risk of costly delays. By leveraging their proficiency and established relationships with government agencies, brokers can expedite the clearance process, proving essential for time-sensitive shipments.
Perhaps most importantly, customs brokers are adept at mitigating potential customs issues before they escalate, serving as proactive troubleshooters who can address concerns early on, safeguarding their clients from potential financial and legal repercussions.
The Process of Becoming a Customs Broker
Education and skills required
To become a proficient customs broker, one must embark on specialized training that can often be found through a logistic management course or similar online courses. These educational pathways provide the technical knowledge necessary for navigating the complex customs regulatory landscape, including understanding international trade agreements and proper customs-specific training and certification.
Moreover, successful customs brokers often possess a collection of soft skills that bolster their professional proficiency. Attention to detail is paramount in reviewing extensive documentation for accuracy, problem-solving abilities enable them to overcome challenging hurdles in the customs process, and adept communication skills ensure they can effectively liaise between different parties, from import/export companies to government officials.
Licensure and certification process
To gain formal recognition and the authority to operate, candidates must pass the rigorous customs broker licensing examination, which tests their comprehension of customs laws, entry procedures, classification, and valuation among other critical topics.
Subsequently, applicants must submit an application for a broker's license with customs authorities, providing evidence of their understanding and capability in navigating the multifaceted sphere of customs operations. This process entails a background check and potentially a review of their professional and personal history to ensure they meet the ethical standards expected within the industry.
Key Attributes of a Successful Customs Broker
Knowledge and understanding of international trade laws and regulations
A vast and thorough knowledge of international trade laws and regulations is the bedrock upon which a successful customs broker's reputation is built. Constantly evolving international laws require a broker to be always informed and compliant, acting as a steward of integrity in cross-border commerce.
This deep understanding directly influences their ability to provide valuable consulting regarding potential trade agreements or tariff exemptions that can result in considerable savings for clients.
Ability to handle complex documentation
Managing the ability to handle complex documentation is a daily reality for customs brokers. Mastery over forms such as bills of lading, commercial invoices, packing lists, and more must be showcased with attention to the minutiae. Each document not only tells a part of the shipment's story but also needs to match up perfectly to avoid customs holds, ensuring that the client's cargo moves as planned.
Proficiency in communication and negotiation
Interpersonal skills are a crucial attribute of a successful customs broker, with a strong emphasis on proficiency in communication and negotiation. Facilitating constructive relationships with both clients and customs officials lays the groundwork for smoother operations. In negotiations, a broker can secure more favorable outcomes for all parties involved, further cementing their role as a vital component of international trade.
Real-Life Applications and Case Studies of Customs Brokerage
Case study of effective brokerage resulting in efficient import/export
An analysis of real-life cases reveals the tangible benefits of adept customs brokerage. Successful brokers have repeatedly demonstrated how an integrated approach to compliance can lead to seamless import/export operations. In one such instance, a customs brokerage firm managed to renegotiate a problematic product classification, leading to reduced duty payments and expediting the delivery schedule by weeks.
This type of result highlights the substantial impact that effective brokerage can have on the entirety of a supply chain.
Case study of problem resolution with Customs authorities
Effective customs brokers are problem solvers at heart, a trait exemplified in several case studies where potential crises were averted through strategic negotiation with customs authorities. In one example, a brokerage intervened to resolve an inadvertent misdeclaration of goods by presenting detailed information and proactive remediation steps.
Their swift action and direct communication with the authorities mitigated the situation, preventing what could have escalated into hefty fines and shipping delays.
Future Challenges and Opportunities in Customs Brokerage
Impact of evolving trade policies and regulations
Customs brokerage is an environment subject to continuous change, especially with the impact of evolving trade policies and regulations. Brokers must stay on the pulse of legislative developments, preparing to adapt their practices to align with new requirements.
This ability to adjust reflects a broader awareness of geopolitical shifts and the persistence to safeguard clients' interests in a fluctuating regulatory landscape.
Impact of technology and digitization on the brokerage industry
Technological advancements and the push toward digital processes present both challenges and opportunities within customs brokerage. The adoption of automated tools promises greater accuracy and efficiency in customs declarations and compliance checks. Moreover, brokers face an exciting horizon with the opportunities for digital transformation in their operations. The industry is becoming increasingly reliant on data analytics, machine learning, and blockchain to enhance transparency, speed, and reliability, creating a new age for customs brokerage driven by innovation.
As we have traversed through the depths of customs brokerage, it's palpable that their work forms an integral pillar of international trade. This profession, while nuanced and demanding, offers critical guidance and support that keeps the wheels of global commerce turning. On the horizon, the customs brokerage industry stands at a crossroads of tradition and transformation. Brokers must navigate a rapidly evolving framework of digital technologies and changing regulations. However, the core essence of the profession—a commitment to facilitating trade and ensuring compliance—will likely remain as the steadfast foundation of customs brokerage for years to come.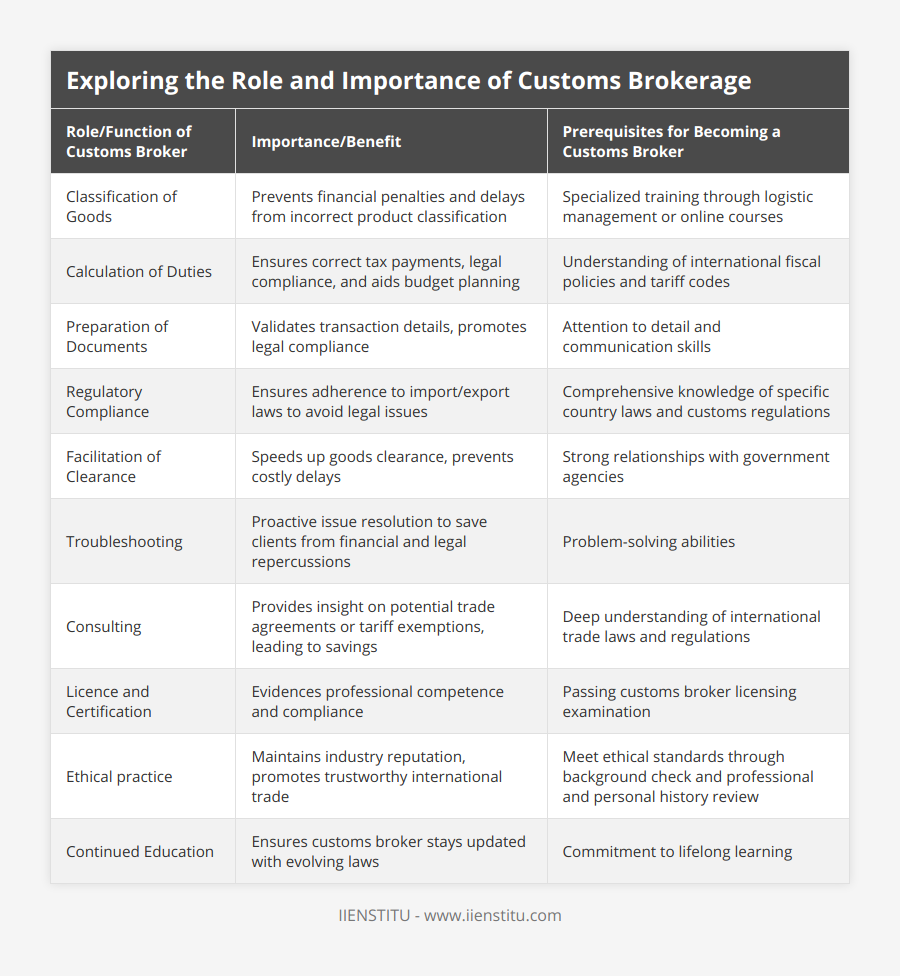 customs brokerage
customs brokers
international trade regulations
import/export
compliance with regulations
expedite clearance
mitigate customs issues
logistic management course
online courses
customsspecific training and certification
attention to detail
problemsolving
Yu Payne
Blogger
Yu Payne is an American professional who believes in personal growth. After studying The Art & Science of Transformational from Erickson College, she continuously seeks out new trainings to improve herself. She has been producing content for the IIENSTITU Blog since 2021. Her work has been featured on various platforms, including but not limited to: ThriveGlobal, TinyBuddha, and Addicted2Success. Yu aspires to help others reach their full potential and live their best lives.
Related Posts
Our team of experts is passionate about providing accurate and helpful information, and we're always updating our blog with new articles and videos. So if you're looking for reliable advice and informative content, be sure to check out our blog today.