Logistic Management
Enhancing Customer Service in Supply Chains
02 March 2023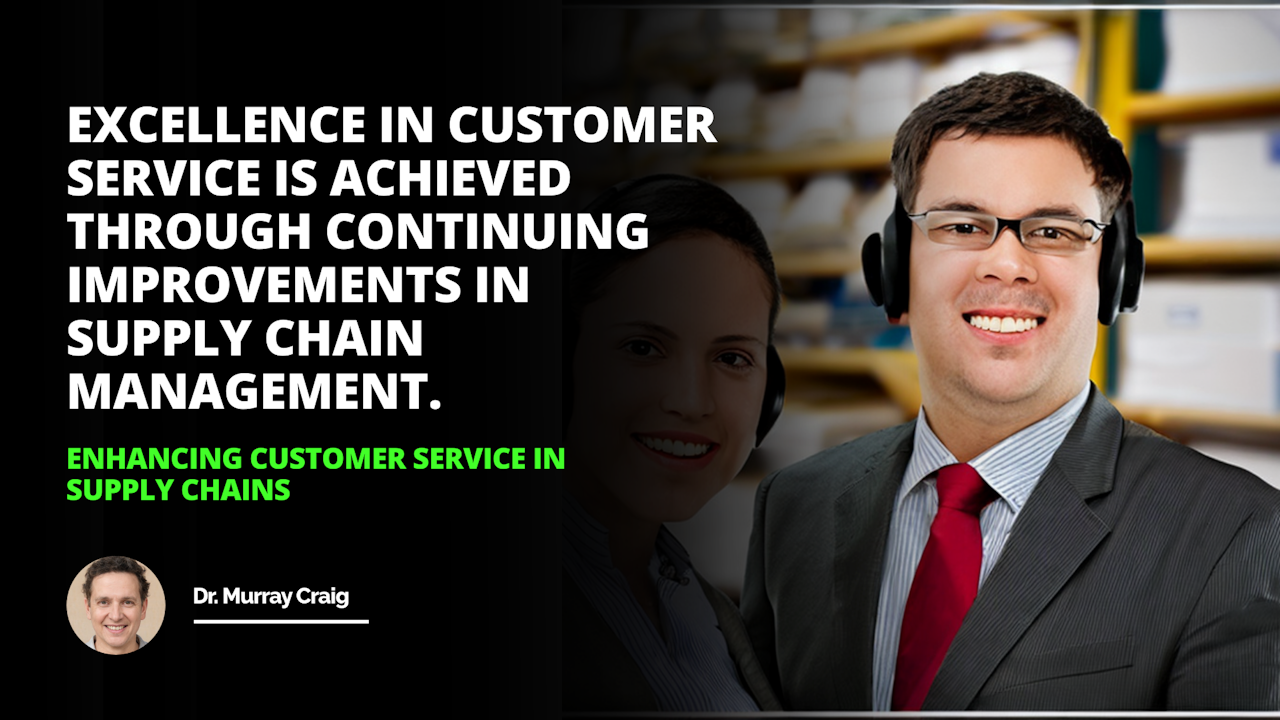 | Aspect | Description | Implication |
| --- | --- | --- |
| Customer Expectations | Customers expect high levels of service in today's fast-paced environment. | Failure to meet customer expectations can result in customer dissatisfaction and loss of business. |
| Supply Chain Visibility | Organizations need full visibility of their supply chain to predict and meet customer demand. | Lack of visibility can lead to inaccurate forecasting and poor customer service. |
| Accurate Data | Accurate and up-to-date data is critical for informed decision making and timely order fulfillment. | Poor quality data can lead to inaccuracies and adversely affect customer service. |
| Technological Advancements | Technologies like big data, artificial intelligence, and real-time tracking are altering supply chain management. | Proper utilization of technology can reduce challenges and improve customer service. |
| Communication | Effective and timely communication is paramount for customer service. | Poor communication can result in misunderstandings, customer dissatisfaction, and lost sales. |
| Collaboration | Collaboration across the supply chain is vital for visibility and improved customer service. | Lack of collaboration can result in a disjointed supply chain, which negatively impacts customer service. |
| Order Updates | Customers need to receive timely updates about their orders. | Failure to provide such updates can lead to customer frustration and broken trust. |
| Challenge Addressing | Companies must acknowledge and address the challenges associated with customer service in their supply chain. | Unaddressed challenges can lead to significant losses in customer trust and business growth. |
| Continuous Improvement | Improvements in supply chain management must be continuous for superior customer service. | Complacency and a lack of continuous improvement can lead to a loss in competitiveness and customer loyalty. |
| Meeting Customer Needs | Understanding and meeting customer needs is a key component of effective customer service. | Failure to meet customer needs can result in negative customer experience and potential loss of business. |
Challenges to Enhancing Customer Service in Supply Chains

Technology Plays a Key Role

Communication and Collaboration are Key
Customer service is one of the most important aspects of any business. In today's fast-paced, global environment, customers expect the highest level of service. Therefore, companies must take the necessary steps to meet their expectations. In addition, the supply chain is critical to customer satisfaction as it is essential for order fulfillment, efficient logistics, and reliable product delivery. Therefore, enhancing customer service in supply chains is vital to staying competitive.
Challenges to Enhancing Customer Service in Supply Chains
There are several challenges an organization must address when it comes to enhancing customer service in its supply chain. One of the most significant challenges is more visibility across the supply chain. Organizations need the ability to see what is happening throughout the supply chain to predict customer demand and plan accordingly and accurately. Therefore, organizations must strive to create greater visibility to better prepare for customer demand and meet expectations.
Another challenge involving customer service in the supply chain is the need for accurate and up-to-date data. Insufficient or outdated data can lead to inaccurate information and ultimately affect customer service. On the other hand, with accurate data, organizations can make informed decisions regarding their supply chain and fulfill customer orders on time and with ease.
Technology Plays a Key Role
The way companies manage their supply chain is constantly changing thanks to technological advances. Technology can help reduce or eliminate many challenges companies face regarding customer service in the supply chain. For example, new technologies like big data and artificial intelligence can create greater visibility across the supply chain. This leads to more accurate data, greater efficiency, and improved customer service.
Another way technology is helping to enhance customer service in supply chains is through real-time tracking. Technologies such as RFID tracking, near-field tracking, and GPS tracking allow organizations to monitor the location of goods throughout the supply chain in real-time. This enables organizations to quickly and easily see goods' areas and adjust shipping schedules.
Communication and Collaboration Are Keys
Technology only goes so far; effective communication and collaboration are essential for enhancing customer service in the supply chain. Cooperation between the various partners in the supply chain is vital for creating greater visibility and increasing customer service. This involves all stakeholders in the supply chain, from suppliers to customers. Companies must ensure their partners know the customer's needs and expectations to fill orders on time accurately.
Effective communication is also necessary when it comes to customer service. Companies must make sure they are readily available to answer questions and address issues that customers may have. In addition, customers should receive timely updates regarding their orders, including shipping, delivery, and product availability. This allows customers to make informed decisions and feel confident in their purchases.
Conclusion: Enhancing customer service in the supply chain is essential for organizations hoping to stay ahead of their competition. There are several challenges that companies must address to deliver consistent and reliable customer service. Technology, effective communication, and collaboration are crucial in solving some of these challenges. By addressing the various challenges associated with customer service in the supply chain, organizations can create a superior customer experience and stay ahead of their competition.
Excellence in customer service is achieved through continuous improvements in supply chain management.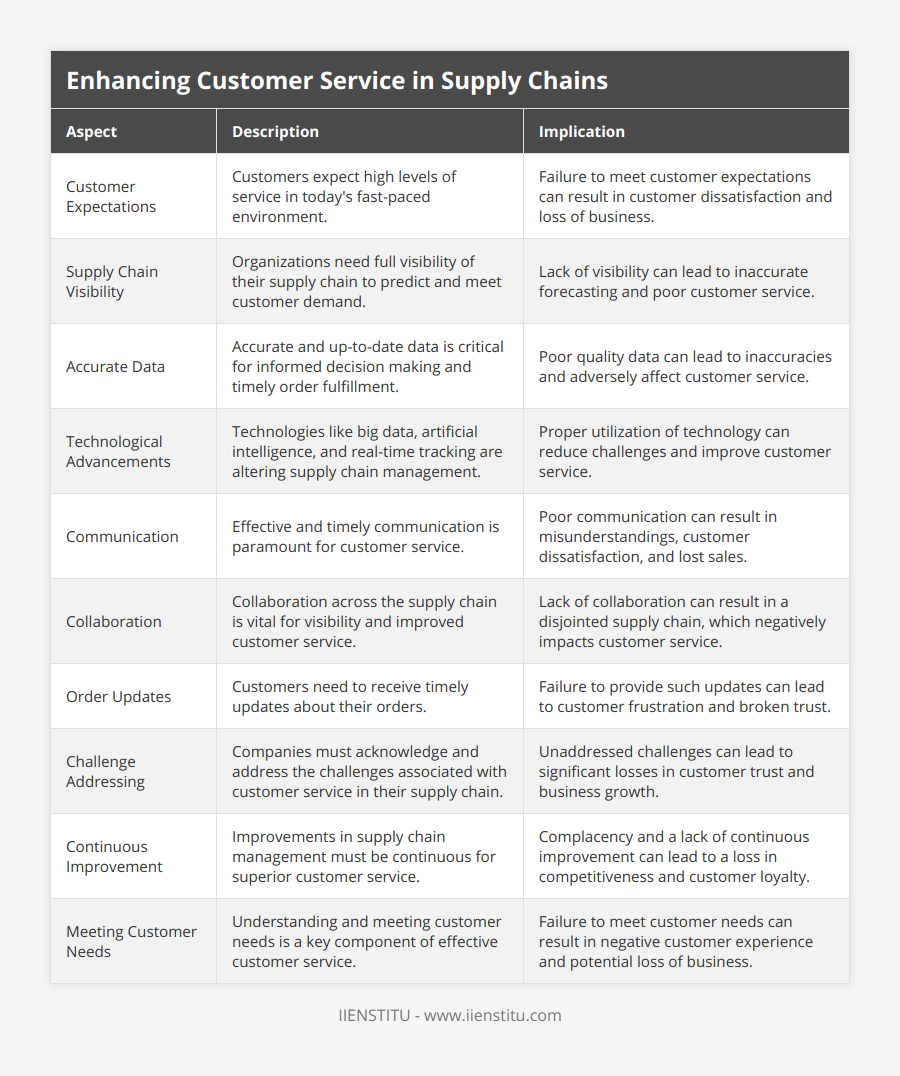 Customer service
Supply chain
Visibility
Data
Technology
Big data
Artificial intelligence
Real-time tracking
RFID tracking
Near-field tracking
GPS tracking
Communication
Collaboration
Competitiveness

Dr. Murray Craig
Academic
Dr. Murray Craig is an academic and researcher who has dedicated his life to the study of human behavior. He has a particular interest in how people interact with their environment, and how that interaction can be used to improve their lives. Dr. Craig has spent many years teaching and conducting research at universities all over the world, and he is widely respected for his work in the field of behavioral science.
Related Posts
Our team of experts is passionate about providing accurate and helpful information, and we're always updating our blog with new articles and videos. So if you're looking for reliable advice and informative content, be sure to check out our blog today.