Leadership
Engaging Impacted Stakeholders Your Mutual Success
22 February 2023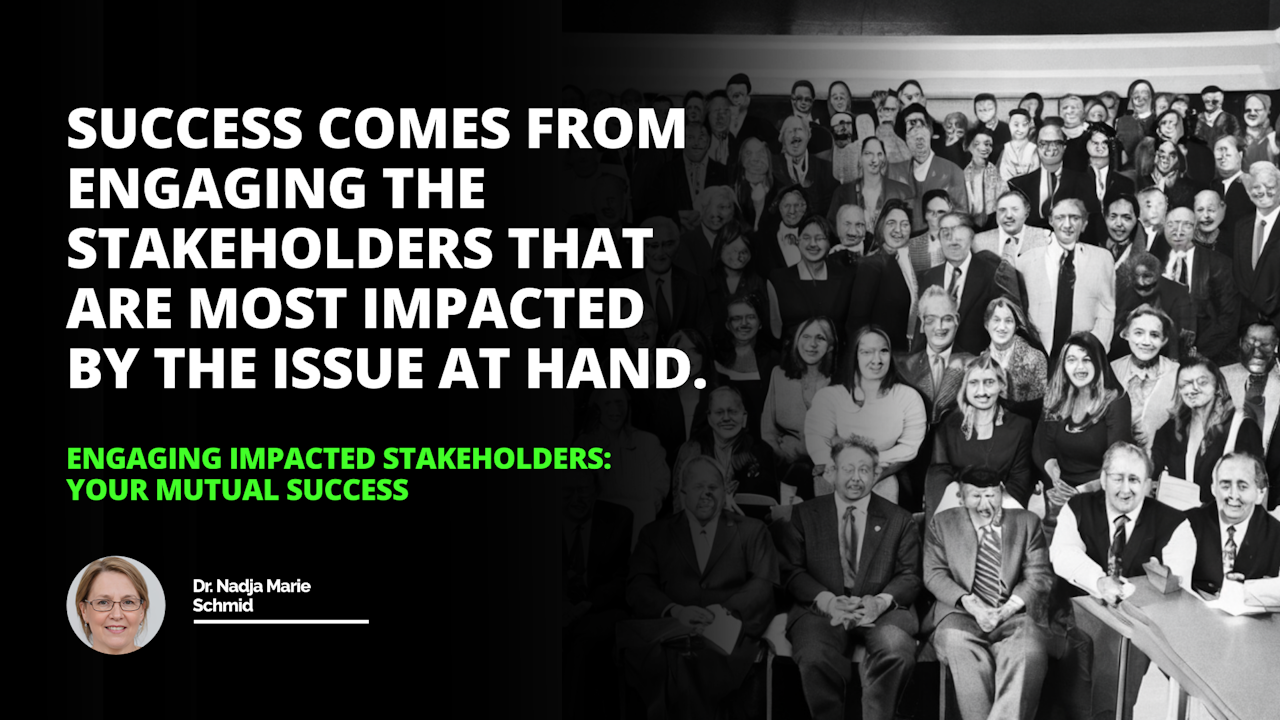 | Key Aspect | Detailed Explanation | Benefits |
| --- | --- | --- |
| Defining an Impacted Stakeholder | A stakeholder is an entity that can influence or be affected by the outcome of a project or organization. They vary from internal staff, investors, suppliers, to customers and target markets. | Identifying stakeholders ensures they are included in the engagement process, fostering better understanding and communication. |
| Establishing a Two-Way Dialogue | Creating a communication platform where stakeholders can express their views is essential. This results in better understanding and trust among parties. | Listening to stakeholders can lead to beneficial outcomes. Open, two-way communication enhances mutual understanding and trust. |
| Mutual Success Goal-Setting | Strive for mutually beneficial outcomes instead of just managing expectations. Setting shared objectives upheld by all stakeholders ensures successful collaboration. | When all stakeholders' interests are addressed, it greatly increases the chances of success. |
| Successful Engagement Strategies | Manage the engagement process consistently, allocate an appropriate budget for engagement activities, and be responsive to outcomes and feedback. | Consistent engagement makes stakeholders feel heard and valued, thereby promoting productive collaboration. |
| Open Communication | Avoid rigid, top-down communication. Implement a flexible system where everyone's voice can be heard. | Open communication increases the level of understanding and trust, thereby improving engagement outcomes. |
| Inclusion of Various Engagement Activities | Engagement should not be limited to meetings but should include events, surveys, workshops, and public engagement efforts. | Variety in engagement activities ensures stakeholders' prolonged interest and active participation. |
| Stakeholder Identification | Clearly identify who is impacted by a decision or a project. This includes both internal and external stakeholders. | Stakeholder identification ensures that key players are not overlooked and have an opportunity to contribute to the discussion and decision-making process. |
| Shared Objectives | Establish shared goals that are understood and supported by all stakeholders. | Shared objectives help unify the team, providing a clear direction and purpose. |
| Budget for Engagement Activities | Ensure appropriate financial resources are allocated for effective stakeholder engagement. | Adequate funding maintains stakeholder interest and fosters continual engagement. |
| Responsiveness to Feedback | Active responsiveness to stakeholder input and feedback should be a priority. | Responsiveness to feedback validates the stakeholders' contributions and promotes a culture of trust and collaboration. |
Defining an Impacted Stakeholder

Establishing a Two-Way Dialogue

Mutual Success Goal-Setting

Successful Engagement Strategies
Engaging impacted stakeholders—those affected by a project or organization—is critical for success. Because stakeholders represent varying viewpoints and interests, understanding and communicating with each other is necessary for mutual success. This blog will explore how establishing a two-way dialogue with stakeholders, goal-setting that strives for mutual success, and engagement strategies that are consistent and meaningful can elevate the success of any engagement process.
Defining an Impacted Stakeholder
Different terms have been used to refer to those an organization or project may impact, but the 'stakeholder' term has become the most commonly used. A stakeholder can influence or be affected by the outcome of a project or organization. For example, for a company introducing a new product, stakeholders may be internal staff, investors, suppliers, customers, target markets, etc. Each stakeholder must be identified to ensure they are included in the engagement process.
Establishing a Two-Way Dialogue
Engagement success is predicated on a two-way dialogue between stakeholders and the project or organization. Creating a communication platform where each stakeholder can hear and be heard is essential. Establishing an open and effective dialogue helps build understanding and trust between stakeholders. Listening to stakeholders' ideas and concerns can lead to beneficial outcomes and productive action. Avoiding rigid, top-down communication can improve engagement outcomes.
Mutual Success Goal-Setting
More than simply engaging the stakeholders in dialogue is required; steps should be taken to ensure mutual success. This means going beyond merely managing stakeholders' expectations and instead striving for mutually beneficial outcomes. Setting shared and understood objectives by all stakeholders is necessary for successful collaboration. When all stakeholders' interests are addressed, the likelihood of success increases significantly.
Successful Engagement Strategies
It's essential to manage the engagement process consistently so that stakeholders feel heard and accepted. An appropriate budget for engagement activities helps ensure stakeholders remain engaged over time. These activities should not be limited to meetings. Still, they may also include events, surveys, workshops, and other educational and public engagement efforts. Finally, it's critical to be responsive to both the outcomes of the engagement process and the stakeholders' feedback.
Conclusion: Engaging impacted stakeholders is a critical step for any successful project. Establishing a two-way dialogue, creating mutual success goals, and having effective engagement strategies are the foundations of successful stakeholder engagement. Tackling projects with this mindset will help ensure the success of any engagement efforts.
Success comes from engaging the stakeholders that are most impacted by the issue at hand.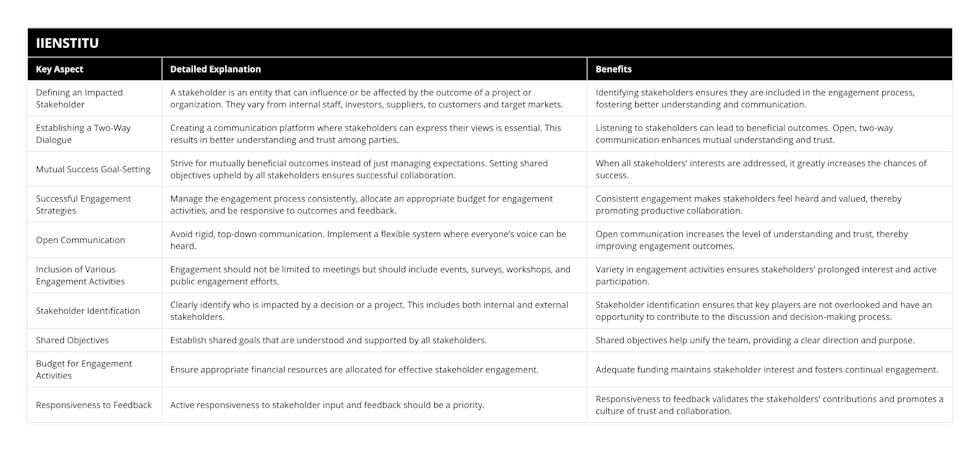 stakeholders
two-way dialogue
mutual success
engagement strategies
impacted stakeholders
organization
project
interest
objectives
budget
meetings
surveys
workshops
public engagement
consistent
feedback

Dr. Nadja Marie Schmid
Academics
Dr. Nadja Marie Schmid is a leadership and management professor dedicated her career to helping students achieve their full potential. She has been published in numerous journals and is a frequent speaker at conferences worldwide.
Dr. Schmid's research focuses on understanding how leaders can create an environment where employees can reach their highest level of performance. She believes that the key to success is creating a culture of trust, respect, and collaboration.
Related Posts
Our team of experts is passionate about providing accurate and helpful information, and we're always updating our blog with new articles and videos. So if you're looking for reliable advice and informative content, be sure to check out our blog today.