Logistic Management
Efficient Material Handling: Loading, Moving & Filling
02 March 2023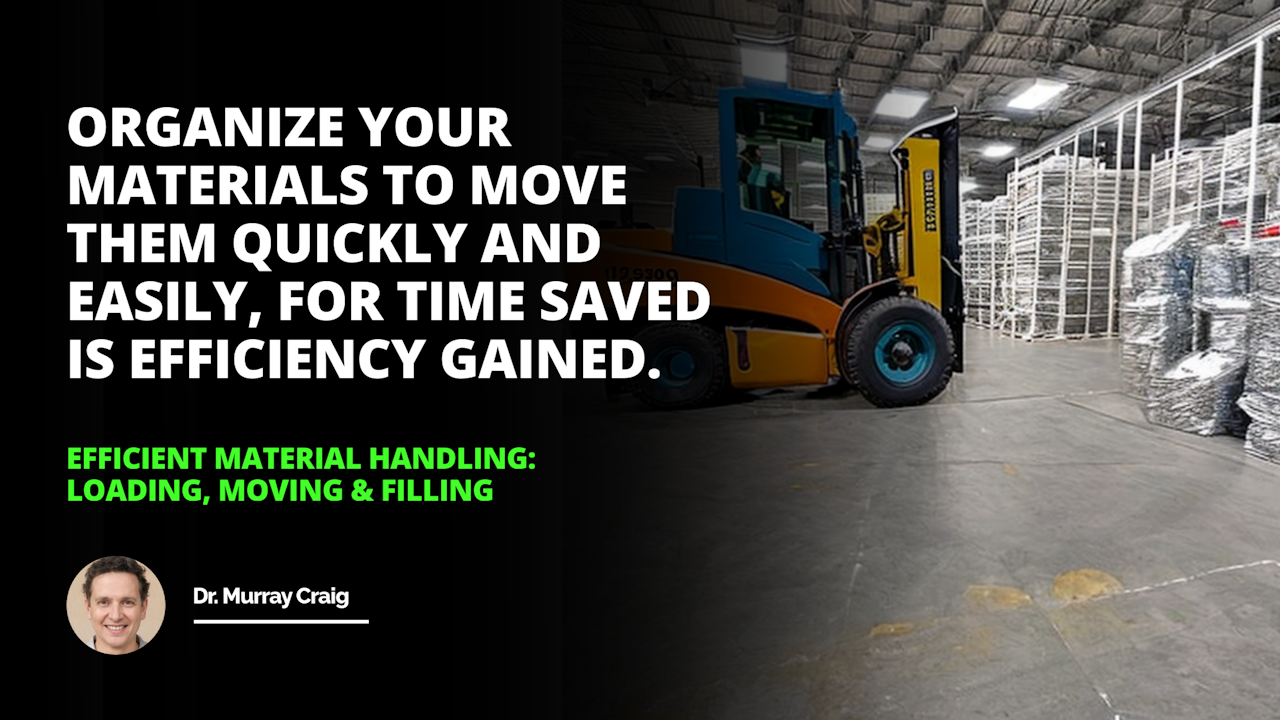 | Material Handling Phase | Description | Benefits |
| --- | --- | --- |
| Loading | Preparation and staging of materials before production | Improved accuracy and productivity, better handling of materials |
| Techniques for Loading | Palletizing, bundling, wrapping, shrink wrapping, automated loading systems | Precision accuracy, decreased manual labor |
| Moving | Physical transfer of materials throughout the production process | Improved efficiency and safety, reduced costs and errors |
| Ways to Move Materials | Manual moving, or use of mechanical equipment like carts, dollies, conveyors, forklifts | Less physical labor, decreased risk of injury, increased production efficiency |
| Filling | Stocking and installing products in the production line | Decreased errors, reduced waste, optimized production line |
| Management of Filled Materials | Proper storage, keeping an inventory, and appropriate labeling of materials | Easy tracking, quick identification, better organization |
| Benefits of Automation | Use of automated systems in loading, moving and filling | Reduced manual labor, improved speed and precision |
| Safety in Material Handling | Adherence to safety measures and usage of right equipment | Decreased risk of injury, increased worker morale |
| Efficient Material Management | Proper planning, control, and organization of materials | Reduced waste and costs, enhanced productivity and efficiency |
| Role of Material Handling in Production | Critical for accurate, efficient, economical and safe production | Increased profitability, competitive advantage, better customer service |
Material handling is a critical factor in the success of any production line. It is essential to the efficient operation of a business. Material handling is the process of loading, moving, and filling materials, including products, parts, and components, in an organized and efficient manner. Proper material handling reduces costs, promotes safety, and enhances productivity. This blog aims to discuss the different loading, moving, and filling techniques and the potential benefits of using efficient material handling processes.
Loading
The loading process involves the preparation and staging of materials before the start of a production line. Loading at the beginning of a function is an essential part of the overall material handling process as it ensures that materials are adequately prepared and ready for the next phase of the production line. The simplest form is manual loading, where the workforce moves materials and components. However, current loading operations often involve mechanical equipment such as conveyors and forklifts.
Benefits of Loading
Loading provides various benefits, including improved accuracy, better handling of materials and components, and greater productivity. By adequately loading materials before production, the chances of errors, defects, or misplacement are significantly reduced, improving the production process's accuracy. Additionally, proper loading minimizes the time lost due to product handling and increases the efficiency of the production line.
Techniques for Loading
There are several techniques for loading materials, including but not limited to: palletizing, bundling, wrapping, and shrink wrapping. Additionally, advanced material handling systems provide automated loading systems, allowing for precision accuracy and reducing the amount of manual labor needed.
Moving
Moving material involves physically transferring materials and components throughout the production process. Hauling materials is done to maximize efficiency and safety, as well as to reduce costs and errors. The method of moving can involve manually moving materials from one station to another or using mechanical equipment such as carts, dollies, conveyors, and forklifts.
Benefits of Moving
Moving materials can be labor-intensive, yet it has several potential benefits over manual labor. For one, it helps reduce the amount of physical work needed, decreases the risk of employees becoming injured, and helps improve the efficiency of the production process. Additionally, using the correct type of mechanical equipment can help limit the number of breakdowns and ensure smooth and efficient production.
Ways to Move Different Materials
The type of material being moved can determine the type of equipment to be used. For example, lightweight materials can be moved manually, while heavier materials may require mechanical equipment. Additionally, the material's size, shape, and type can determine the equipment to use. For instance, a conveyor system may be used for moving large quantities of materials. In contrast, a forklift may be used for moving heavier materials.
Filling
The process of filling involves stocking and installing products and components in the production line. This process ensures that materials are in the correct place, at the right time, and with a valid quantity and quality. Filling is usually done manually, but with technological advancements, automated systems are becoming increasingly popular.
Benefits of Filling
The filling is an essential step in ensuring that the production line runs smoothly. By adequately filling materials, businesses can minimize the risks of errors, reduce waste, and optimize the production line. Automated systems can also help streamline the process, as it eliminates the need for manual labor.
Management of Filled Materials
Once materials are filled, it is essential to manage them properly. Materials should be stored according to their size and needs, and an inventory should be kept so that materials can be easily tracked. Additionally, materials should be appropriately labeled so that they can be identified quickly.
Conclusion: Material handling is an integral part of any production line and is essential for businesses to achieve the highest efficiency. Proper loading, moving, and filling materials are vital components of material handling. They can provide numerous benefits, such as improved accuracy, better handling of materials, and greater productivity. Businesses can achieve effective material handling by understanding the different loading, moving, and filling techniques and implementing efficient systems.
Organize your materials to move them quickly and easily for time saved is the efficiency gained.

Material handling
loading
moving
filling
palletizing
bundling
wrapping
shrink wrapping
mechanical equipment
conveyors
forklifts
accuracy
handling
productivity
automation
inventory
labeling.

Dr. Murray Craig
Academic
Dr. Murray Craig is an academic and researcher who has dedicated his life to the study of human behavior. He has a particular interest in how people interact with their environment, and how that interaction can be used to improve their lives. Dr. Craig has spent many years teaching and conducting research at universities all over the world, and he is widely respected for his work in the field of behavioral science.
Related Posts
Our team of experts is passionate about providing accurate and helpful information, and we're always updating our blog with new articles and videos. So if you're looking for reliable advice and informative content, be sure to check out our blog today.