Logistic Management
Creating Lasting Customer Satisfaction Through After-Sale Service
27 February 2023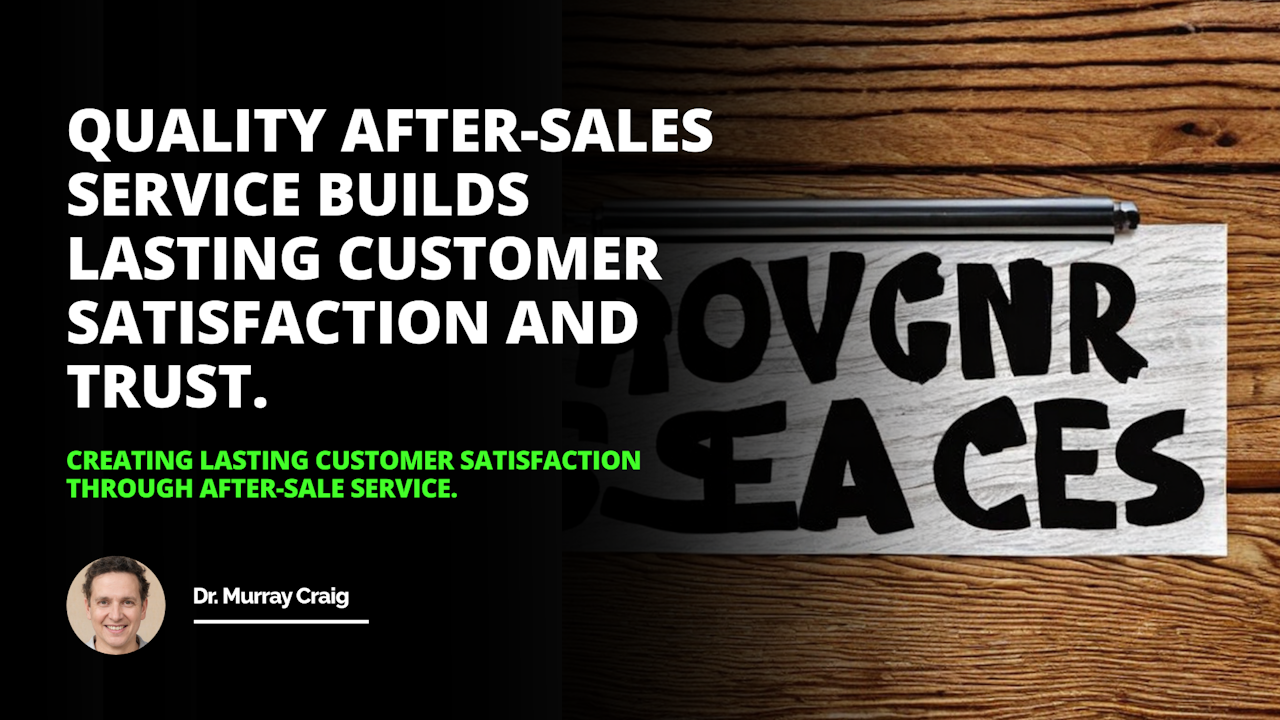 | Aspects of After-Sale Service | Benefits for Businesses | Benefits for Customers |
| --- | --- | --- |
| Customer assistance and troubleshooting | Promotes customer satisfaction, increases repeat business | Extends lifespan of products/services, encourages better user experience |
| Repair and maintenance services | Increases customer trust, enhances product reputation | Maintains usability of product, reduces additional repair cost |
| Informing of new updates and features | Reminds customers of product relevance, may boost additional sales | Helps maximize use of product/service, enhances satisfaction with purchase |
| Diversified support channels | Allows for more customer reach, caters to varied customer preferences | Gives flexibility of support, ensures quicker turnaround time |
| Customer loyalty initiatives | Strengthens customer-business bond, may lead to positive word-of-mouth | Offers incentives, provides additional value |
| Preferential after-sale services | Promotes customer loyalty, increases customer value | Ensures priority support, adds to customer satisfaction |
| Self-service support options | Cuts support staff cost, improves service efficiency | Encourages self-reliance, offers convenience |
| AI and NLP-enabled support tools | Speeds up service delivery, offers potential cost-cutting | Assists in rapid problem identification, enhances response time |
| Lasting customer satisfaction | Creates loyal customer base, increases business longevity | Enhances overall product/service experience, instills trust in the business |
| Future outlook | Stay ahead with technology, deliver advanced service offering | Enjoy benefits of upcoming technologies, experience enhanced service |
Benefits of After-Sale Service

Strategies for Enhancing After-Sale Service

Future Outlook for After-Sale Service
Customer satisfaction is a crucial fundamental to maintaining a successful business operation. After-sale service is critical to delivering optimal customer satisfaction in the long run. It entails providing care that a business entity offers its customers after products or services have been rendered. This aftercare is critical to maximizing the potential of customer satisfaction, as it can deliver a wide range of benefits that can contribute to long-term happiness and loyalty.
Benefits of After-Sale Service
After-sale service has the potential to bring numerous benefits to businesses and customers. Firstly, after-sale service has the potential to extend the useful lifespan of products and services. This can be achieved through customer assistance, troubleshooting guidance, and repair and maintenance services.
Furthermore, an effective after-sale service strategy can inform customers of new features, updates, and innovations in the product or service. This can help remind customers of the product or service's relevance to their particular needs and everyday lives. As a result, customers can remain satisfied with their experiences for a prolonged period.
Strategies for Enhancing After-Sale Service
Businesses should adopt diverse strategies to enhance the impact of their after-sale service offering. One of these strategies is diversifying the support channels that customers can access to obtain guidance and assistance. For instance, businesses can set up multiple support channels such as telephone, email, and online chats.
Besides this, businesses should also attempt to establish customer loyalty initiatives and programs. These programs have the potential to offer a wide range of incentives that can provide customers with an additional level of value and strengthen their bond with the business. Furthermore, loyalty programs can provide access to preferential after-sale services such as fast-track repair and maintenance services.
Future Outlook for After-Sale Service
In the future, businesses will likely emphasize after-sale self-service support options, such as knowledge bases and user manuals. This can go a long way to curbing support staff costs and enhancing customer service efficiency.
Moreover, businesses are also likely to adopt technology solutions such as Artificial Intelligence (AI) and Natural Language Processing (NLP) to speed up and streamline the delivery of after-sale service. For example, AI and NLP-enabled chatbots and virtual assistants can assist in accurately diagnosing customer issues and rapidly deploying solutions.
In conclusion, after-sale service is critical to delivering lasting customer satisfaction. It can bring businesses numerous benefits, such as enhanced product lifespans and greater customer relevancy. To take maximum advantage of after-sale service, companies should diversify their support channels, establish customer loyalty programs, and focus on self-service options. Additionally, businesses should leverage technology-driven solutions to upgrade the efficiency and speed of after-sale services.
Quality aftersales service builds lasting customer satisfaction and trust.

Customer satisfaction
After-sale service
Benefits
Support Channels
Customer Loyalty Initiatives
Future Outlook
Self-Service Support
Artificial Intelligence
Natural Language Processing
Chatbots
Virtual Assistants

Dr. Murray Craig
Academic
Dr. Murray Craig is an academic and researcher who has dedicated his life to the study of human behavior. He has a particular interest in how people interact with their environment, and how that interaction can be used to improve their lives. Dr. Craig has spent many years teaching and conducting research at universities all over the world, and he is widely respected for his work in the field of behavioral science.
Related Posts
Our team of experts is passionate about providing accurate and helpful information, and we're always updating our blog with new articles and videos. So if you're looking for reliable advice and informative content, be sure to check out our blog today.