Communication
Comprehensive Review of Discourse & Conversation Management
19 November 2023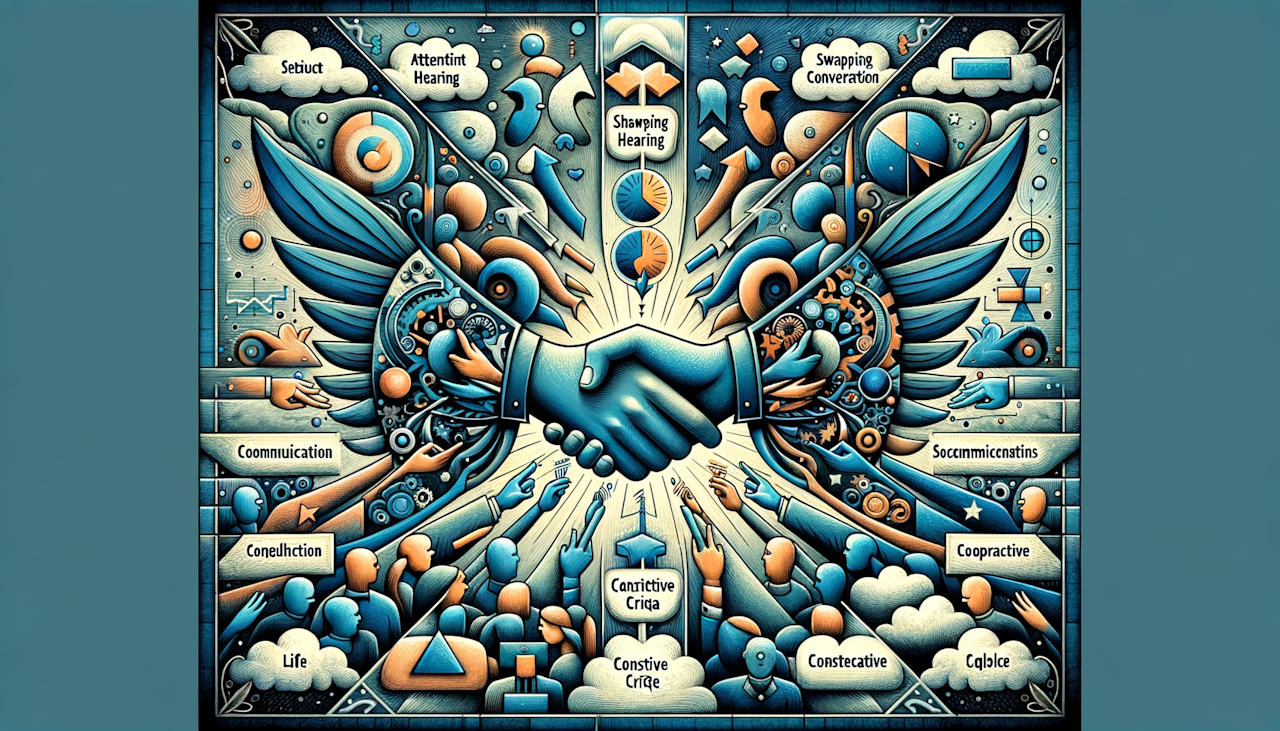 | Context | Challenge | Solution |
| --- | --- | --- |
| Intercultural Communication in Multinational Corporation (Nissan-Renault Alliance) | Cultural differences between the Japanese and French business environments lead to misunderstandings, misinterpretations, and conflicts. | Formation of a bi-cultural management team to facilitate effective communication and mutual understanding. |
| Managing Discourse within Diverse Virtual Teams (Tata Consultancy Services) | Potential communication issues due to remote work settings and diverse cultural and linguistic backgrounds of employees. | Investing heavily in training employees to manage discourse effectively in virtual environments. |
| Systemic conversation management | Navigating complex, multi-layered discourses without offending or alienating interlocutors. | Developing a comprehensive understanding of conversation management principles and practices. |
| Intercultural communication | Misunderstanding of cultural nuances, leading to ineffective communication and conflicts. | Promoting knowledge-sharing, cultural sensitivity training, and appreciation for diversity. |
| Virtual environments | Absence of non-verbal cues and constraints of communication technologies leading to misunderstandings. | Implementation of communication strategies and tools to facilitate clearer, more effective remote communication. |
| Organizations with distinctive communication cultures | Misalignment of communication norms and practices among individuals. | Creating an environment where all individuals understand and respect the nuances of each other's conversation management styles. |
| Decision-making processes in corporate settings | Cultural differences causing conflicts over favoured approaches (bottom-up vs. top-down). | Establishing a unified decision-making process that respects and incorporates different cultural practices. |
| Collaboration in virtual teams | Geographical and cultural diversity leading to communication barriers in team collaboration. | Providing employees with training and tools to manage conversations effectively in virtual teams. |
| Integrating different communication styles | Difficulty in effective communication due to different conversation management styles. | Developing appreciation for diverse communication styles and making an effort to integrate them in interactions. |
| Building successful intercultural alliances | Understanding and navigating cultural differences for effective communication. | Establishment of bi-cultural teams to promote mutual understanding and effective communication. |
Conversations are the building blocks of human interactions. In every walk of life, be it a personal, professional, or academic setting, we engage in conversations with our peers, friends, or colleagues. Systemic conversation management is a complex process by which individuals participate in a conversation, adhering to the norms, principles, and mores of a culture or society. The complexities of discourse become evident in diverse contexts, such as intercultural communication, virtual environments, and organizations with distinctive communication cultures.
Managing conversations in such diverse contexts often pose significant challenges. Consequently, it is crucial for individuals engaging in such exchanges to develop a comprehensive understanding of systemic conversation management. This understanding allows them to navigate through complex, multi-layered discourses without offending or alienating their interlocutors. Moreover, it enables them to construct and present their ideas effectively, ensuring a smooth, interactive, and purposeful conversation.
In this article, we will explore systemic conversation management – its significance, the rules governing it, and the challenges posed by diverse contexts. We will also analyze real-life case studies where organizations have effectively navigated through the intricate web of discourse dynamics to achieve successful outcomes.
---
Related Course: Systemic conversation management
---
Case One: Intercultural Communication in Multinational Corporation
One of the most prominent challenges in navigating the complexities of discourse arises in the domain of intercultural communication. This challenge is evident in the case of Nissan, the multinational corporation, and its strategic alliance with Renault in 1999. The alliance aimed at reinvigorating Nissan's financial position and global reach by leveraging Renault's resources and expertise. The formation of this alliance led to numerous issues regarding the profound cultural differences between the Japanese and French business environments.
One such issue pertained to the management of conversations in the context of decision-making processes. The Japanese culture favored a bottom-up approach, whereby decisions made at consensus-building meetings (Nemawashi) were conveyed and ratified by the top management during official meetings (Ringi). Compounding this difficulty was the French preference for a top-down, hierarchical approach wherein the top management steered decision-making processes and provided directives.
These differences in conversation management led to misunderstandings, misinterpretations, and conflicts between the two sides. The management at Nissan and Renault recognized these communication issues and took proactive steps to bridge the cultural divide. They established a bi-cultural management team comprising of Japanese and French nationals, who worked together to facilitate effective communication and mutual understanding. This team recognized the importance of creating an environment wherein the participating management from both sides understood the nuances of each other's conversation management styles and made an effort to integrate them in their interactions.
The bi-cultural team actively promoted knowledge-sharing, cultural sensitivity training, and an appreciation for diversity. These efforts led to a gradual decline in communication-related misunderstandings and allowed for a seamless dialogue between the two sides, ultimately contributing to the alliance's success. Today, the Renault-Nissan alliance is one of the leading examples of successful intercultural communication in a multinational corporate setting, highlighting the importance of systemic conversation management in diverse contexts.
Case Two: Managing Discourse within Diverse Virtual Teams
The increasing adoption of remote work and geographically dispersed teams has led to an increase in the complexities of managing conversations within virtual environments. Virtual work settings often suffer from communication breakdowns and misunderstandings, often due to the absence of non-verbal cues and the constraints of communication technologies. This challenge becomes more daunting when virtual teams comprise of individuals from diverse cultural and linguistic backgrounds.
The case of TCS (Tata Consultancy Services), a global information technology firm, illustrates how a comprehensive understanding of systemic conversation management can contribute to effective collaboration in virtual teams. TCS's vast network of nearly 150,000 employees across the world often collaborate on complex projects using remote communication tools such as emails, video conferences, and collaborative software.
To address potential communication issues, the management at TCS developed several strategies aimed at helping team members navigate the complexities of discourse in virtual environments. TCS invested heavily in training employees to adopt a patient and empathetic attitude towards communication. This training included elements such as active listening and careful choice of words and tone, ensuring a respectful and open work environment. TCS also developed a comprehensive communication guide that outlined protocols and etiquette to be followed while collaborating across different time zones, cultures, and linguistic barriers.
Another crucial aspect of TCS's approach to conversation management involved cultivating an inclusive, trust-based, and supportive virtual work culture. The creation of safe spaces for virtual team members to discuss issues openly and honestly, without fear of retribution or misunderstanding, played a pivotal role in fostering constructive and effective conversations. The success of TCS's approach can be seen in the company's consistent growth in the international market and its reputation as a reliable provider of information technology services worldwide.
These two cases demonstrate the importance of a comprehensive approach to systemic conversation management in diverse contexts. The ability to understand the nuances and complexities of discourse and tailor the communication styles accordingly is pivotal in enabling productive interactions – whether it is in intercultural, virtual, or organizational settings. The key takeaway lies in developing a thorough grasp of the complexities of discourse, learning from contextual challenges, and applying this knowledge to enhance the quality, effectiveness, and purposefulness of conversations.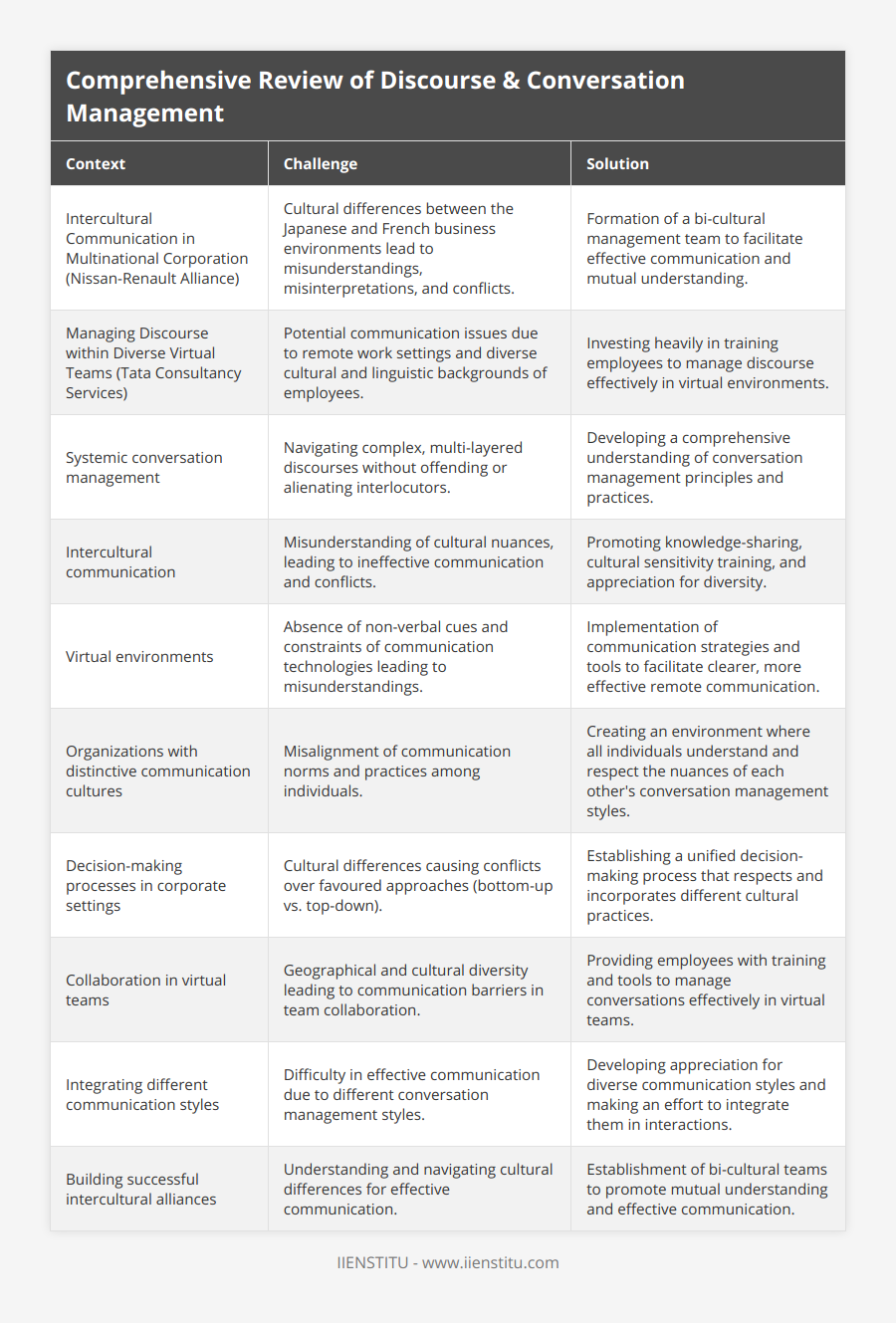 Yu Payne
Blogger
Yu Payne is an American professional who believes in personal growth. After studying The Art & Science of Transformational from Erickson College, she continuously seeks out new trainings to improve herself. She has been producing content for the IIENSTITU Blog since 2021. Her work has been featured on various platforms, including but not limited to: ThriveGlobal, TinyBuddha, and Addicted2Success. Yu aspires to help others reach their full potential and live their best lives.
Related Posts
Our team of experts is passionate about providing accurate and helpful information, and we're always updating our blog with new articles and videos. So if you're looking for reliable advice and informative content, be sure to check out our blog today.