Human Resources Management
Compassion in Human Resources Management: Externally vs. Internally
16 February 2023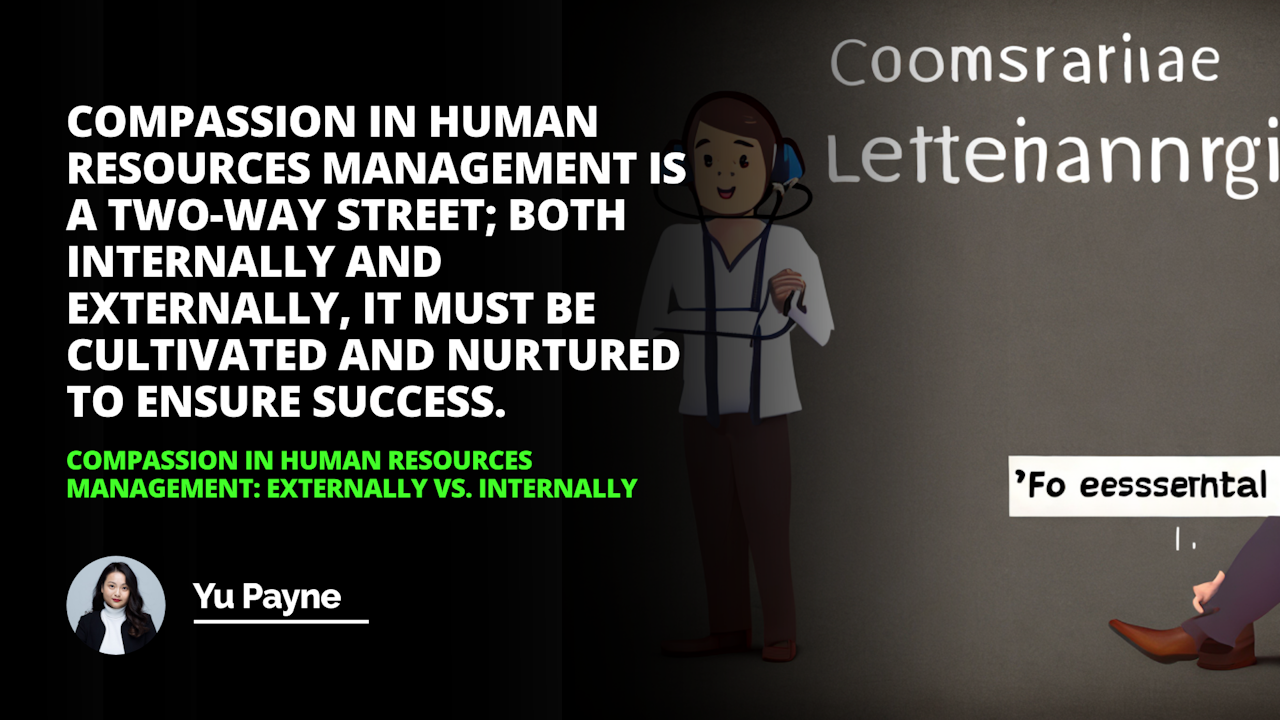 | Category | Definition | Benefits/ Examples |
| --- | --- | --- |
| Externally Facing Compassion | Activities demonstrating an organization's commitment to social issues and humanity, mainly through corporate philanthropy and community engagement. | Increases public trust, demonstrates corporate social responsibility; e.g., charitable donations. |
| Corporate Philanthropy | Direct contributions to charitable causes, demonstrating a positive difference in the world beyond profit margins. | Positively affects employee morale, provides societal benefits; e.g., contributions to environmental programs. |
| Community Engagement | Actions that build relationships within the community, often through volunteering, fundraising, or offering resources. | Organizational visibility, societal impact; e.g., partnering with local schools for education initiatives. |
| Internally Facing Compassion | In-house initiatives promoting employee wellbeing, inclusivity, and diversity. | Promotes respect and understanding, impacts beyond profits; inclusive policies and recruitment processes. |
| Employee Care & Support Programs | Measures prioritizing the wellbeing of employees within the organization, such as mental health services, flexible work arrangements, and regular staff check-ins. | Improves employees' wellbeing, encourages positive work environment; e.g., providing counseling services for employees. |
| Inclusive Policies and Practices | Workplace practices encouraging diversity and inclusion. | Creates equitable work environment, promotes diversity; e.g., adapting recruitment processes for accessibility and fairness. |
| Open-Door Policy | A communication process that allows employees to communicate openly with managers regarding concerns without fear of retaliation. | Empowers employees, promotes trust; e.g., encouraging employees to report workplace issues. |
| Flexible Work Arrangements | Work systems allowing for adaptability in terms of when, where, and how work is accomplished, such as telecommuting options. | Improves work-life balance, attracts talent; e.g., work-from-home options. |
| Counseling Services | Professional services aimed at promoting mental health wellbeing among employees. | Supports employees during challenging times, promotes resilience; e.g., offering mental health resources. |
| Equitable Recruitment Processes | Hiring practices ensuring equal opportunity for all applicants. | Promotes diversity, fairness; e.g., barrier-free application processes. |
Introduction

Externally Facing Compassion in Human Resources Management

Corporate Philanthropy

Community Engagement

Internally Facing Compassion in Human Resources Management

Employee Care and Support Programs

Inclusive Policies and Practices

Conclusion
In the 21st century, corporate leadership is a complex construct. Focusing on profits is no longer enough, as companies must now consider how their actions and values reflect upon their reputation.
Related Course: Leadership Course
Corporate philanthropy and benevolence have become increasingly important, but "compassion" in business often gets reduced to this single concept. Therefore, it is essential to understand the difference between externally facing philanthropy and internally facing compassion and how each contributes to the success of a business.
Introduction: Compassion in human resources management has become an essential part of modern business. It is no longer enough to focus solely on profits, as companies must also ensure their actions and values reflect positively on their reputation.
Companies often view external compassion activities, like corporate philanthropy and community engagement, as the primary form of human management. However, internally facing compassion – such as employee care and support programs or inclusive policies and practices – can benefit an organization's success. This article will discuss the differences between external and internal facing compassion in human resources management.
Externally Facing Compassion in Human Resources Management
Externally facing compassion is a form of corporate social responsibility. It typically involves corporate philanthropy and community engagement, demonstrating an organization's commitment to social issues and humanity. Corporate philanthropy can take many forms, from direct donations to more mission-focused initiatives.
These activities increase public awareness of an organization's values and build trust among stakeholders. Finally, community engagement is another basic form of externally facing compassion. This involves engaging with local communities in meaningful ways, often through volunteering or other types of support that benefit the community.
Corporate Philanthropy
Corporate philanthropy is a powerful way for organizations to demonstrate their commitment to making a positive difference in the world beyond profit margins. By donating money or resources to charitable causes, businesses can directly contribute to communities in need while increasing their visibility among potential customers or investors looking for companies with socially conscious values.
In addition, corporate philanthropy can positively affect employee morale by allowing them to participate in meaningful projects that align with company values of giving back.
Community Engagement
Community engagement is another form of externally facing compassion that allows companies to build relationships with residents and organizations to create lasting social change within their communities.
Businesses may participate in volunteer programs, host fundraising events, offer internships, or provide job training opportunities for members of underserved populations who may not otherwise have access to these resources. For example, a tech company might partner with local schools or nonprofits focused on STEM education for young people from underserved backgrounds by providing mentorships, workshops, or even technical support so those students can gain the skills they need for future employment opportunities.
Internally Facing Compassion In Human Resources Management
Internally facing compassion is just as crucial to achieving a successful business model. This includes initiatives such as employee care and support programs, inclusive policies, and practices that promote diversity and inclusion within the workplace.
By taking these measures, companies can create a culture of respect and understanding among employees while demonstrating their commitment to making a meaningful impact beyond profit margins. Ultimately, this type of compassionate Human Resources Management benefits organizations and the communities they are part of.
Employee Care And Support Programs
In addition to outwardly facing forms of compassion like corporate philanthropy and community engagement initiatives, it is essential for businesses to also focus on internally meeting compassion measures that prioritize the well-being of employees within the organization itself.
This could include instituting supportive employee care programs such as;
providing mental health services through counseling sessions and wellness workshops,

offering flexible work arrangements such as telecommuting, implementing regular staff check-ins with managers,

creating an open-door policy that encourages employees to express concerns without fear of retribution,

adapting recruitment processes so they are accessible and equitable,

addressing workplace issues like bullying head-on, providing healthy snacks and refreshments at regular intervals throughout the day,

allowing unlimited vacation time,

or introducing mentorship programs where senior staff members mentor junior workers who may struggle with specific tasks or concepts related to their work roles within the organization.
All these initiatives contribute towards creating a nurturing culture where employees feel valued and respected by leadership – one that provides them with the necessary support for professional growth while promoting a sense of belongingness amongst colleagues regardless of individual differences or backgrounds.
Inclusive Policies And Practices
The second form of internally facing compassion involves actively creating an environment where everyone feels included regardless of race, gender identity, age, disability status, etc.
Companies should strive to understand how different types of diversity impact current employees' experiences and potential candidates' perceptions when interviewing at the company.
Through implementing fair hiring practices that involve conducting extensive background checks before hiring new staff members; requiring mandatory diversity training sessions that teach managers how best articulate new policies effectively; centralizing data on race pay gaps across departments during performance reviews etc., organizations can start taking steps that promote equity at all levels within its workforce.
Furthermore, leaders can encourage more excellent representation of minority groups by sponsoring scholarships specifically targeted at women/racial minority groups interested in pursuing careers related fields relevant fields like engineering or medical science, hosting career events dedicated solely towards underrepresented individuals, providing mentorship opportunities for marginalized students wanting to apply their knowledge into real-world applications, etc.
These combined efforts will help foster an atmosphere free from discrimination where everyone feels appreciated, leading to increased productivity, creativity & innovation.
Conclusion: Compassion in human resources management is crucial for modern businesses today because it helps ensure both internal moral standards are upheld. At the same time, external relationships remain positive among stakeholders & customers alike.
The two forms discussed here - externally vs. internally facing – represent only some methods through which organizations can demonstrate compassionate leadership practices. However, many more possibilities are available depending on the context & situation.
Regardless, incorporating elements such as compassion into routine HR strategies will benefit all parties involved & ultimately lead to tremendous success & improved well-being amongst all concerned.
Compassion in Human Resources Management is a two-way street; internally and externally, it must be cultivated and nurtured to ensure success.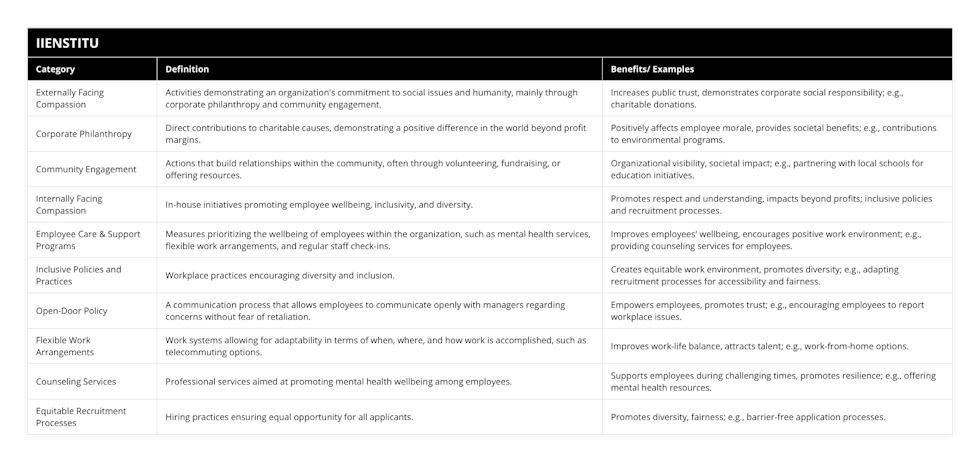 Compassion
Human Resources Management
Externally Facing Philanthropy
Internally Facing Compassion
Corporate Social Responsibility
Corporate Websites
Annual Reports
Charitable Work
Profits
Operating Expense
Market Downturns
Valuing People
Investing in Employees
Education
Growth
Well-Being
Business Culture
Compassionate Leadership
Job Satisfaction
Morale
Productivity
Attract and Retain Talented Employees
Corporate Leadership
Balance between Profits and Values
Reputation
Sales Prospects
Foundational to Internal Business Culture.
Yu Payne
Blogger
Yu Payne is an American professional who believes in personal growth. After studying The Art & Science of Transformational from Erickson College, she continuously seeks out new trainings to improve herself. She has been producing content for the IIENSTITU Blog since 2021. Her work has been featured on various platforms, including but not limited to: ThriveGlobal, TinyBuddha, and Addicted2Success. Yu aspires to help others reach their full potential and live their best lives.
Related Posts
Our team of experts is passionate about providing accurate and helpful information, and we're always updating our blog with new articles and videos. So if you're looking for reliable advice and informative content, be sure to check out our blog today.