Interview Questions
Interview Question: Aligning Supply Chain Goals with Business Strategy
25 September 2023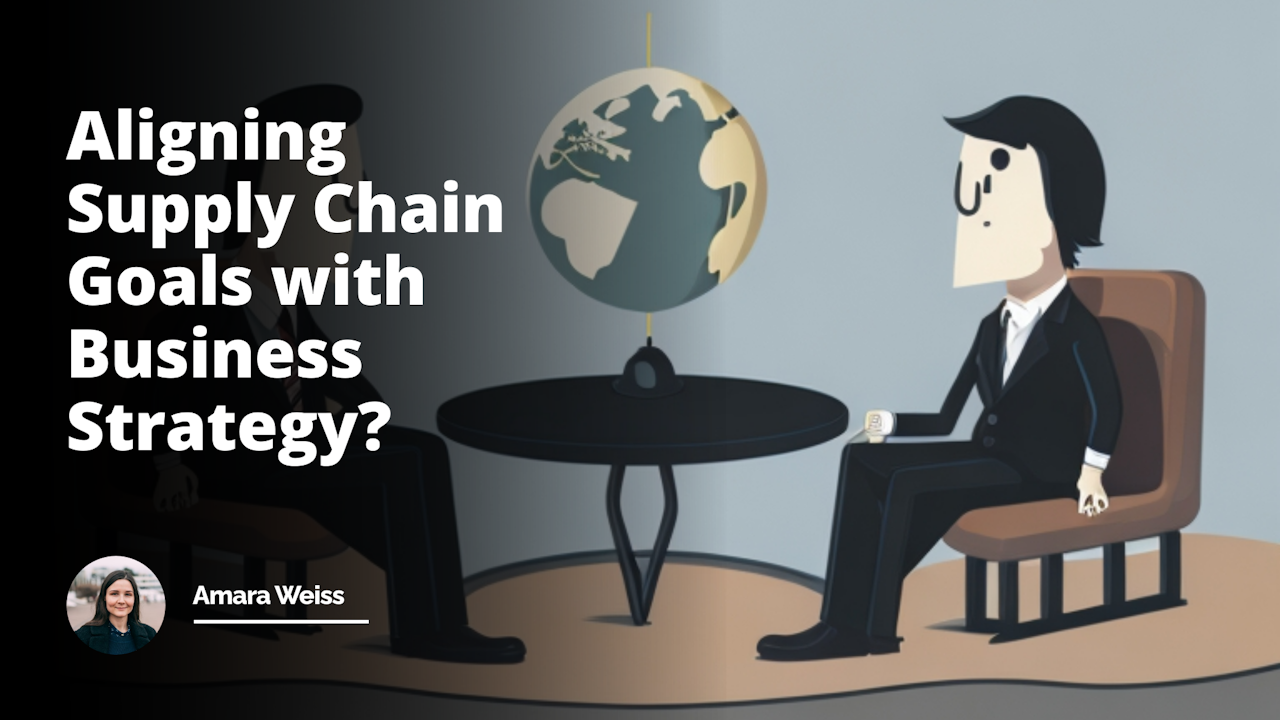 | Aspect | Significance | Potential Response |
| --- | --- | --- |
| Understanding Business Strategy | Integral to identify strategic goals which the supply chain processes need to support. | Deeply grasp the company's mission, vision and strategic goals. |
| Review of Supply Chain Operations | Helps in identifying key improvement areas and bottlenecks. | Undertake a comprehensive review of all aspects of supply chain operations. |
| Development of Objectives and KPIs | Bridges the gap between business strategy & supply chain operations | Develop metrics that align with business strategy, focusing on efficiency, quality, and customer satisfaction. |
| Cost-Efficiency | Promotes financial health and competitiveness. | Ensure all supply chain processes are optimally designed to deliver maximum value at minimum cost. |
| Supplier Relationship Management | Vital for assuring quality, timeliness, and cost control. | Establish robust, mutually beneficial relationships with suppliers. |
| Risk Mitigation | Ensures operational continuity and resiliency. | Implement proactive strategies to predict and mitigate potential supply chain risks. |
| Service Quality | Impacts customer satisfaction and ultimately affects the bottom line. | Prioritize delivering high-quality products or services on time. |
| End-to-End Visibility | Enhances decision making and response capability. | Adopt integrated supply chain management systems for transparency in operations. |
| Consideration of Market Trends | Informs strategic planning and decision-making. | Stay abreast of market trends, potential disruptions, and technological advancements. |
| Continuous Improvement | Necessary for adapting to changing business environments. | Implement a culture of continuous learning, feedback, and improvement within the supply chain. |
In the intricate realms of business management and logistic coordination, an integral question is frequently brought to the table during the hiring process: "How do you propose aligning supply chain goals with business strategy?" To understand why interviewers ask this question, it is crucial to appreciate the importance of a well-aligned supply chain with a company's core strategy. This alignment is the backbone of operational efficiency, buoying both profitability and customer satisfaction.
Companies aim to identify prospective employees who appreciate the symbiotic relationship between supply chain goals and overall business strategy.
They are on the lookout for individuals who can forecast future industry trends, understand the market dynamics, and most importantly, be able to align supply chain goals with business strategy. This is to ensure a well-coordinated, coherent, and high-functioning system that will keep the business competitive and resilient.
The Purpose of the Question: How do you propose aligning supply chain goals with business strategy?
This question gauges your understanding of logistics, strategic planning, and business management. Your response will reveal your foresight, decision-making ability, and the knack to create an efficient operation that syncs up with the overall company vision. Interviewers aim to determine if you are capable of analyzing, strategizing and executing plans that align supply chain goals with overarching business objectives.
It is also a litmus test for your problem-solving skills, creativity, and ability to optimize resources. Most importantly, the question uncovers if you can strike a balance between efficiency, cost-effectiveness, and customer satisfaction— the three pillars of any successful supply chain strategy.
At What Interview Level is It Asked?
The question - "Aligning supply chain goals with business strategy" is generally asked at mid-level and senior level interviews. These roles often involve decision-making responsibilities coupled with the need for a strategic viewpoint to shape and drive supply chain processes. Interviewees might include candidates for Supply Chain Manager, Operations Manager, Logistics Coordinator, and similar positions.
What Kind of Answer is Expected from the Candidate?
A well-crafted answer should demonstrate your understanding of the dynamic relationship between a company's strategy and its supply chain management.
The interviewer expects insights about your ability to not only strategize but also implement plans effectively. You should be able to present a competent framework that includes factors like cost-efficiency, managing supplier relationships, mitigating risks, maintaining high-level service quality, and improving end-to-end visibility.
Your response should also reflect your ability to consider market trends, potential disruptions and reforms in technology when aligning supply chain goals with business strategy. A results-driven strategy with a focus on continuous improvement and learning should be the core of your proposed solution.
Possible Answers to Consider
A good answer may go along these lines: "Aligning supply chain goals with business strategy requires a deep understanding of the company's visions, mission, and strategic goals. The first critical step would be to understand the business strategy in its entirety. Next, I would undertake a comprehensive review of the supply chain operations to identify areas of improvement and bottlenecks.
Once I have a clear picture of both sides, the next step would be to develop objectives and key performance indicators (KPIs) that align the supply chain operations with the business strategy. This would require a collaborative effort involving all key stakeholders in the organization."
Key Elements when Answering: Aligning Supply Chain Goals with Business Strategy
The most important aspect to consider when tailoring your response is to emphasize a holistic approach. It is not solely about identifying the strategic business goals or knowing how the supply chain functions; it's about understanding how these two areas intertwine to create a high-performing, resilient, and profitable business operation.
You need to illustrate how you can leverage this interconnectedness to harness potential challenges and convert them into opportunities for process enhancement and productivity growth. Display your ability to be a strategic thinker who can facilitate effective and seamless integration at every level of the business, in both planning and execution.
In conclusion, to effectively answer "aligning supply chain goals with business strategy" demonstrate your strategic prowess, your capacity for holistic thinking and your knack for execution.
Reflect an understanding of market trends, foresee potential disruptions, showcase your capability of devising contingency plans, and above all, underline your ability to keep learning and improving continuously.
This is what creates an adaptable and resilient supply chain, capable of weathering the market's ups and downs while staying in line with the company's primary economic objectives.
Correlation Between Supply Chain Optimization and Business Performance
| Supply Chain Optimization | Business Performance | Correlation |
| --- | --- | --- |
| Reduced lead time | Improved customer satisfaction | Positive |
| Reduced inventory levels | Lower carrying costs | Positive |
| Enhanced visibility | Better decision-making | Positive |
| Improved supplier relationships | Higher quality inputs | Positive |
| Streamlined processes | Increased operational efficiency | Positive |
| Demand forecasting accuracy | Reduced stockouts | Positive |
Key Performance Indicators for Aligning Supply Chain with Business Strategy
| Key Performance Indicator | Description | Measurement |
| --- | --- | --- |
| Customer Service Level | Measures the extent to which customer demands are met | Percentage of on-time deliveries |
| Inventory Turnover | Measures how quickly inventory is sold and replenished | Inventory turnover ratio |
| Order Cycle Time | Measures the time it takes for an order to be fulfilled | Average order cycle time in days |
| Supply Chain Costs | Measures the total costs incurred in the supply chain | Total supply chain costs in currency |
| Perfect Order Fulfillment | Measures the percentage of orders shipped without error | Percentage of perfect orders |
| Supplier Performance | Measures the performance of suppliers in terms of quality, delivery, and cost | Supplier performance score |
Case Study Analysis: Successful Business Strategies and their Corresponding Supply Chain Models
| Company | Successful Business Strategy | Corresponding Supply Chain Model |
| --- | --- | --- |
| Amazon | E-commerce and online retail | Hub and spoke |
| Toyota | Lean manufacturing | Just-in-Time (JIT) |
| Zara | Fast fashion and agile production | Quick response (QR) |
| Apple | Product differentiation and premium branding | Push-pull |
| Walmart | Low-cost leadership | Efficient consumer response (ECR) |
| FedEx | Global express transportation | Integrated logistics |
Similar interview questions:
How can supply chain objectives be in line with business strategy?

What strategies can be employed to align supply chain goals with overall business goals?

How critical is aligning supply chain goals with business strategy for the success of a business?

What can be the potential challenges when aligning supply chain goals with business strategy?

Can you suggest any effective practices for integrating supply chain goals with business strategy?

What is the impact of linking supply chain goals with business strategy on a company's performance?

Why is it important to synchronize supply chain goals with your business strategy?

Could you provide any examples of firms that have successfully aligned their supply chain goals with the business strategy?

How does aligning supply chain goals with business strategy improve operational efficiency?

In what ways do supply chain goals contribute to the realization of a business's strategic aims?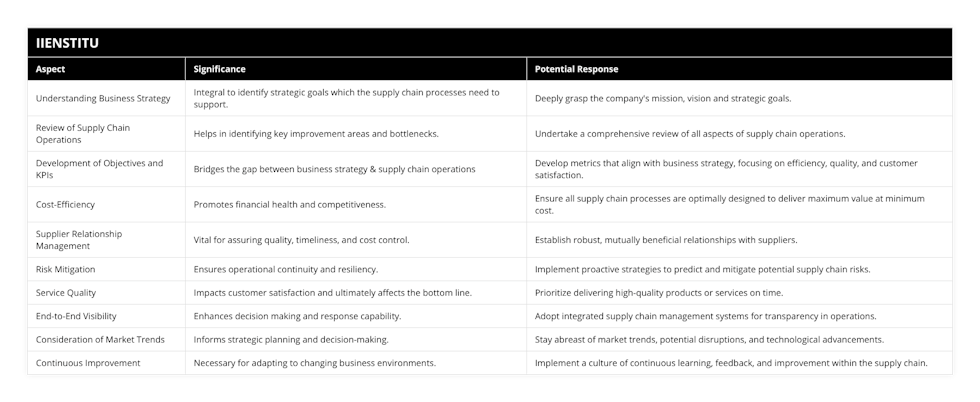 aligning supply chain goals with business strategy
interview question
How do you propose aligning supply chain goals with business strategy?

Amara Weiss
Institute Secretary, Author
I am Amara Weiss and for many years I have worked in the field of education, specifically in the area of technology. I firmly believe that technology is a powerful tool that can help educators achieve their goals and improve student outcomes. That is why I currently work with IIENSTITU, an organization that supports more than 2 million students worldwide. In my role, I strive to contribute to its global growth and help educators make the most of available technologies.
Related Posts
Our team of experts is passionate about providing accurate and helpful information, and we're always updating our blog with new articles and videos. So if you're looking for reliable advice and informative content, be sure to check out our blog today.