Supply Chain Management
Agile Manufacturing: Benefits, Challenges, Trends
10 March 2023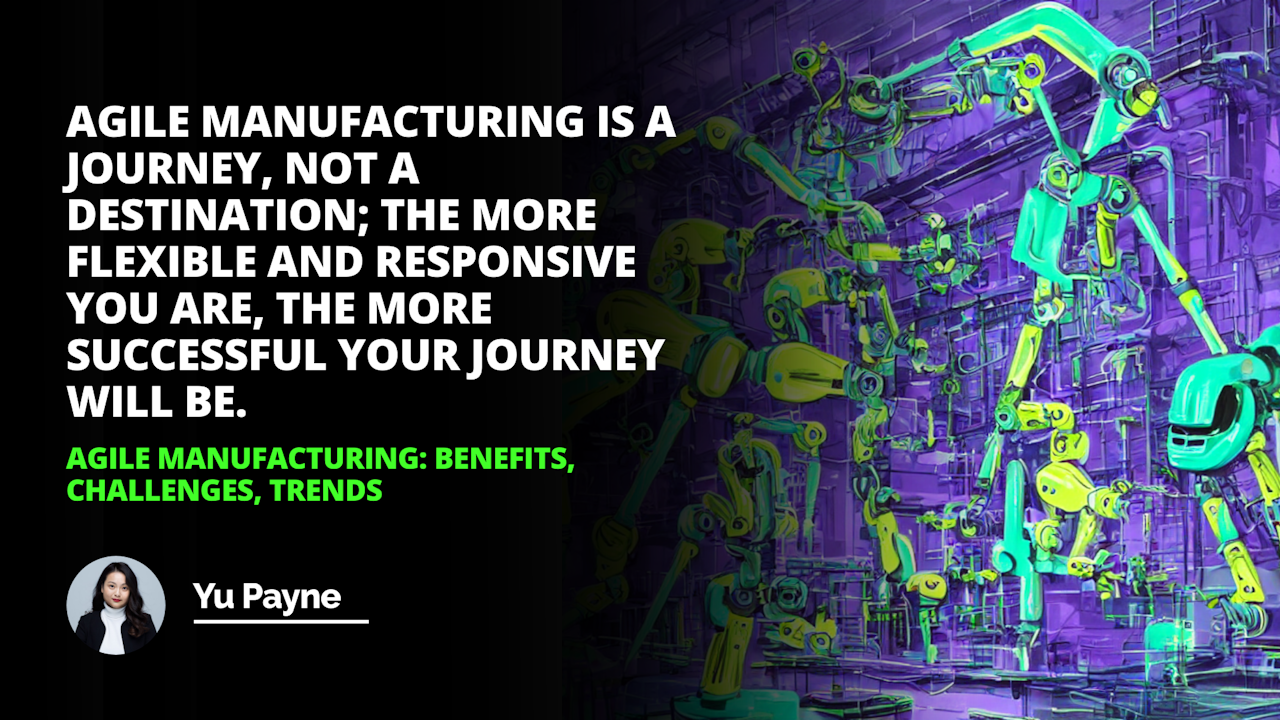 Introduction to Agile Manufacturing

Benefits of Agile Manufacturing in Logistics Management

Challenges of Implementing Agile Manufacturing

Current Trends in Agile Manufacturing

Conclusion and Recommendations
Agile Manufacturing is a business model focused on rapidly developing and delivering high-quality products. It is characterized by a customer-centric approach to production, where customer needs are addressed quickly and efficiently. As a result, agile Manufacturing enables manufacturers to respond quickly to changing market conditions and customer requirements. It also allows them to maximize their resources and capital investments.
Agile manufacturing systems typically comprise several components, including lean production methods, just-in-time production, computer-aided design (CAD), and computer-aided Manufacturing (CAM) technologies. These components work together to enable manufacturers to produce higher-quality products faster and flexibly.
Benefits of Agile Manufacturing in Logistics Management
Agile Manufacturing offers numerous benefits to logistics management. The most notable benefit is the ability to produce high-quality products in shorter lead times. This is made possible by using lean production methods, which reduce production costs, increase efficiency, and improve product quality. Additionally, agile Manufacturing enables manufacturers to respond quickly to customer requirements and adjust production schedules accordingly.
Another significant benefit of agile Manufacturing is that it reduces inventory needs. Because production is based on customer demand, manufacturers can produce only what is needed and quickly replenish their inventory when needed. This reduces overhead costs and increases overall efficiency.
Challenges of Implementing Agile Manufacturing
While agile Manufacturing offers numerous benefits, it also presents several challenges. For example, implementing agile Manufacturing requires significant training, technology, and infrastructure investment. Additionally, it can take time to accurately forecast customer demand and ensure that the right parts and components are available when needed.
Furthermore, agile manufacturing systems rely heavily on information technology, which can be complex and challenging to manage. Finally, agile Manufacturing can be difficult to implement in large organizations, which may have entrenched processes and procedures that are difficult to change.
Current Trends in Agile Manufacturing
The current trend in agile Manufacturing is toward increased automation. Automation enables manufacturers to increase production speed and accuracy while reducing labor costs. Additionally, automation enables manufacturers to reduce waste and improve product quality.
Furthermore, Big Data is increasingly used to analyze customer demand and predict future trends. This enables manufacturers to adjust their production schedules and produce the right products at the right time.
Conclusion and Recommendations
Agile Manufacturing provides numerous benefits to logistics management, including improved product quality, shorter lead times, and reduced inventory costs. However, it also presents several challenges, including significant upfront investment and the need for advanced technology and infrastructure.
Manufacturers should invest in training, automation, and Big Data analytics to make the most of agile Manufacturing. Additionally, they should strive to create a customer-centric culture where customer requirements are addressed quickly and efficiently. With these measures, manufacturers can capitalize on the full potential of agile Manufacturing and ensure long-term success.
Agile Manufacturing is a journey, not a destination. The more flexible and responsive you are, the more successful your journey will be.
igh Agile manufacturing
Lean production
Just-in-time production
CAD
CAM
Logistics management
Training
Technology
Infrastructure
Forecasting
Customer demand
Quality
Efficiency
Production costs
Rapid development
Yu Payne
Blogger
Yu Payne is an American professional who believes in personal growth. After studying The Art & Science of Transformational from Erickson College, she continuously seeks out new trainings to improve herself. She has been producing content for the IIENSTITU Blog since 2021. Her work has been featured on various platforms, including but not limited to: ThriveGlobal, TinyBuddha, and Addicted2Success. Yu aspires to help others reach their full potential and live their best lives.
Related Posts
Our team of experts is passionate about providing accurate and helpful information, and we're always updating our blog with new articles and videos. So if you're looking for reliable advice and informative content, be sure to check out our blog today.