Career
10 Best Ways To Prepare For Your Next Job Intermission
17 April 2022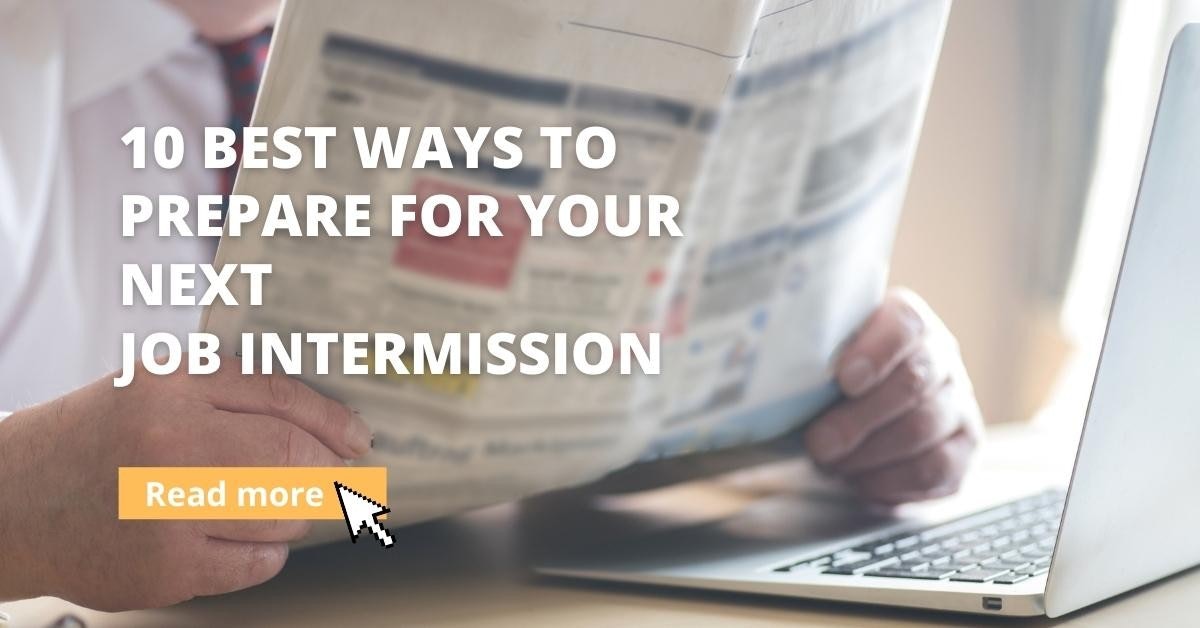 | Steps | Description | Follow-up Actions |
| --- | --- | --- |
| Contemplate Why You Want To Go Intermitting | Understand your motives for taking a break and outline your career aspirations. | Identify any gaps in your professional life and areas that need improvement. |
| Explore What Makes This Intermission Unique | Identify what differentiates this intermission from other breaks you've taken. | Identify new potential career moves and what motivates you. |
| Create A Plan For Your Job Intermission | Outline actions and activities for the intermission phase. | Brainstorm possible passion projects or adventures for the intermission period. |
| Identify The Best Return-To-Work Mission | Establish a timeline for your return to work and plan how it will unfold. | Prepare a fresh resume, update your LinkedIn profile, and connect with past colleagues/professionals. |
| Prepare Your Finances | Ensure your finances are in order to handle the intermission period. | Manage any debt, save for emergencies, and set up a budget for the intermission period. |
| Be Realistic With Yourself | Consider your capacity and needs for the upcoming period. | Consider part-time employment or flexible work arrangements. |
| Stay In Touch | Keep connected with colleagues and professionals in your field. | Schedule regular check-ins or catch-ups with colleagues during intermission. |
| Don't Forget To Relax | Take personal time to rest and recharge. | Engage in activities you enjoy, like vacationing, socializing, or hobbies. |
| Keep Think About Your Career | Stay mindful of your career goals and how this intermission fits into the bigger picture. | Regularly reassess your career goals and adapt your strategies as needed. |
| Define A Strong Bridge | Plan a smooth transition back into the professional world. | Anticipate any potential challenges upon returning to work and devise solutions. |
You've been working hard, but after a few years, you decide it's time for a change. No matter the reason - whether it be burnout or boredom - taking advantage of your next job intermission is the most essential step in getting back into the workforce with momentum. So how can you do that? How can you prepare for your next job intermission? What are some best practices when taking one on?
Today, we'll be highlighting our top ten tips to help you take your time away from work to new heights. As an HR professional, I'll give some advice on what you can do when you decide on job intermission.
What You'll Learn: 
1. Contemplate why you want to go intermitting
2. Explore what makes this intermission unique
3. Create a plan for your intermission
4. Identify the best return-to-work mission
5. Prepare your finances
6. Be realistic with yourself
7. Stay in touch
8. Choose a good partner
9. Take stock of potential opportunities
10. Define a strong bridge
​​Let's begin with first matter;
1) Contemplate Why You Want To Go Intermitting
Before taking off on an intermission, it's essential to make sure you have a goal in mind and know where you want to go next. In other words, why are you taking this time off? Is it because you're burnt out after working long hours? Are you looking for more fulfillment in your career? Do you simply need a break from work life? Keep these answers in mind when planning out your intermission.
2) Explore What Makes This Intermission Unique
Another reason why you want to take time off is so that you can figure out what makes this one unique. After all, you don't want to go back to work without ensuring it's something extraordinary for you! For example, let's say you're burned out after working at a growing startup and decide to take an intermission. Figure out how this next role will be different than the last by considering various factors like location, company culture, commute, position type, challenges faced, and more. Figure out what truly motivates you in your career, and then find a job based on those needs.
3) Create A Plan For Your Job Intermission
It's essential to have a plan in place for your intermission. Although it may be a short time away from work, you still want to make the most out of the experience. If you're uncertain about what kind of project you might take on during your intermission, start by brainstorming some potential ideas! For example, if you love to travel, consider traveling solo or with a friend and sharing your experiences via social media or blogging.
4) Identify The Best Return-To-Work Mission
Once you've figured out the why and how it's time to focus on the when. How long do you want this break from work to last? A week? Two weeks? Four months Whatever amount of time works best for you, you should also think about how you'll be re-entering the workforce. That's where a return-to-work mission comes into play.
One great thing to do is create a list of potential companies you might want to work for next. Then, focus on preparing yourself to make results quick and painless when you start your job search less. For example, prepare a fresh resume and update your LinkedIn profile. You can even reach out to past co-workers or professional connections from school or other fields for informational interviews to help stay in the know about the industry.
5) Prepare Your Finances
It may seem like a prominent piece of advice, but it's essential - especially if you're taking a long intermission. Make sure you have all of your finances in order before heading back to work. This might mean taking care of debts, saving for emergencies, or even budgeting better.
6) Be Realistic With Yourself
After you've taken time off and are preparing for the return-to-work mission, it's essential, to be honest with yourself about what you can handle during your upcoming career journey. For example, if, after four months away from work, you're not ready to jump into full-time hours again, then consider finding a part-time job first or something else that may better fit your needs. It will make the transition easier!
7) Stay In Touch
Don't feel shy about staying in touch with friends or colleagues during your intermission. You may not be working full-time hours, but that doesn't mean you can't keep in contact with people who are. After all, they know what goes on at work and might even have some job leads for when you start your return-to-work mission!
8) Don't Forget To Relax
The last thing to remember about taking an intermission is that it's designed to give you a break from the stress of work life. So make sure to take time out once in a while to do something enjoyable like go on vacation, attend social functions with friends or family, watch movies, exercise, or spend time outdoors. By spending some time during your intermission, you'll be more motivated to get back into the workforce full-force once it's the time!
10) Keep Think About Your Career On Your Job Intermission
When you stop and think about your career, do you find yourself asking yourself, "Is this really what I want?" or "Am I in the right field?". This can definitely happen when you're in a rut. It might even be happening with the company that you currently work for. If this is the case, it might be time to take an intermission from your job and search for something else. An intermission is a great way to discover yourself and figure out how best to utilize your talents and interests before diving back in headfirst. While taking an intermission can sometimes seem daunting, it's really an excellent way to re-energize and re-focus - especially if you're in a rut!
So create your own return-to-work mission and remember: if you've got the passion, don't let anything stop you from getting back into the workforce!

Bilal Şentürk
Blogger
He completed his undergraduate studies at Celal Bayar University, Anadolu University and Istanbul University, and a Master's degree with thesis on Human Resources Management at Yıldız Technical University and Business Management at Beykent University. He is currently writing a doctoral thesis on human resources and consulting businesses on human resources.
Related Posts
Our team of experts is passionate about providing accurate and helpful information, and we're always updating our blog with new articles and videos. So if you're looking for reliable advice and informative content, be sure to check out our blog today.