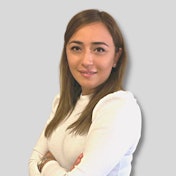 I am a person who enjoys his job in Human Resources procedures and practices. Besides, I love to make Murals, I enjoy fishing, playing chess and taking alternative trips.
Education Information
Ankara University 2015 - 2018 | Human Resources Specialization and Career Counseling - MSc

Çankırı Karatekin University 2011-2015 | Faculty of Fine Arts -Sculpture and Ceramics.
Experience
2020-... Continuing to work as a Human Resources Specialist in a company

2019- 2020 Çemaş Casting Industry Inc. Human resources specialist

2018 Naturel Energy Human Resources Staff - Volunteer

2011- 2016 Operator
Certificate İnformation
KVKK Obligations and Application Examples - TÜDOKSAD- 08.2019

Correspondence Techniques in Business Life - IIENSTITU - 01.2019

Advanced Excel Training - IIENSTITU - 01.2019

Quality Management System Documentation Training - IIENSTITU - 12.2018

Quality Management Systems Internal Auditor Training - IIENSTITU - 11.2018

Applied Entrepreneur - Ankara University - 09.2016

Glass Forming Techniques - Çankırı Karatekin University - 12.2014

Ankara Restoration and Conservation Regional Laboratory Directorate -

Ministry of Culture and Tourism, General Directorate of Cultural Heritage and Museums - 06.2014

4. International Academy of Arts - Near East University - 04.2013
Seminar and Courses
HR Recruitment, Competencies Development and Creation of Company Culture - TÜDOKSAD

Payroll and Personnel Instructor - IIENSTITU

Management and Organization - IIENSTITU

Human Resources Management - 3BİLGİ

Computer Management - 3BİLGİ

Body Language - Global Career